Arts Center of the Ozarks hosts "Possessions" installation by Ben Edwards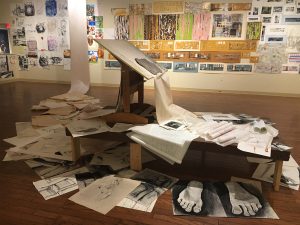 WORDS / JULIA M. TRUPP
In the eyes of a local artist, humans can see the world better with less physical, mental, emotional, and spiritual possessions because in the end, all they do is lead to arbitrary constructs forced upon each other. It is through this message that 40-year-old functional pottery artist Ben Edwards created "Possessions," an exhibition made up of three artworks that is on display at the Arts Center of the Ozarks until next month.
Like many art pieces, this was not an overnight feat. The inspiration for this work – Edward's first solo work at ACO – came from "the exponential growth of our family's own possessions. How that became overwhelming," Edwards said. About two years ago, Edwards heard a loud banging noise coming from his children's bedroom, so he went to investigate. To his surprise, they sat in front of one of the walls where they had hammered some of their stuffed animals, "having court," as they told him when he asked.
"It was one of those moments as a parent where the impulse to laugh has to be stifled in order to discipline. But it was hard," he said. And from there, the overwhelming realization that having four children, like Edwards and his wife do, is more of a challenge than ever before.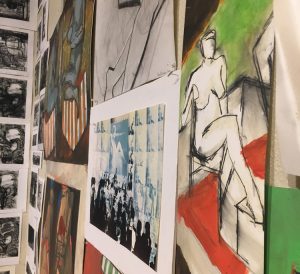 "You have to be an IT professional, a cook, run a full time laundry service around the clock, clean, chauffeur, maintain all these things we are told we need at every step. Consume all the things we are supposed to at every outing, very store. It's absolutely unsustainable," he said. "That's why we are seeing nationally the trend to minimize… our impact on the planet. To live with less, to live more, more purposefully."
The three artworks are titled "The Day Lounge," which amplifies the visual vocabulary of a domestic scene, and it is decorated with mounds of laundry, old lamps and consumer waste. Viewers are invited to sit. "Dispossession," a piece that was sculpted by the discarded possessions of Edwards and his family, allows visitors to walk through the assemblage to view the piece, according to the exhibition description.
"Understanding What They Want," the last piece, is composed of drawings that span more than 30 years of Edwards' work, which offer an emotional chronology and explanation to his lifelong journey to "please others, to overcome mental and physical abuse, to see, to dream, and to seek solitude through drawing," according to the exhibition description. The drawing table included in the exhibition has always belonged to Edwards, and he said he thinks he will always have it because he hasn't outgrown it yet.
"The title of any artwork is a part of its content, a clue to its interpretation. For me, the title of a piece evolves along with the making of the work," Edwards said. "Usually the title emerges from a way of thinking I have at the time. It's a shorthand key to unlock the entry for the viewer."
With Edwards' process, he puts his energy towards meaning, which gives him the freedom to maintain his own principles and work for himself, he said.
Born in Louisiana but raised in Arkansas, Edwards began his formal artist training around 20 years old and was involved in arts administration for Walton Arts Center and Crystal Bridges Museum of American Art, where he "wasn't as prolific," he said. He lives in Bella Vista with his wife and four children. For the past three or four years, he has worked in the studio for at least five days a week and is fully self-employed "with no other 'side jobs' like teaching. It's a new chapter for me."
"Possessions" is on display at the Arts Center of the Ozarks until Feb. 8. The opening reception will be held from 6 to 8 p.m. next Thursday, Jan. 26. More information about the exhibition can be found online.
IMAGES COURTESY OF BEN EDWARDS