PLAYING HOUSE WITH BRAD NEELY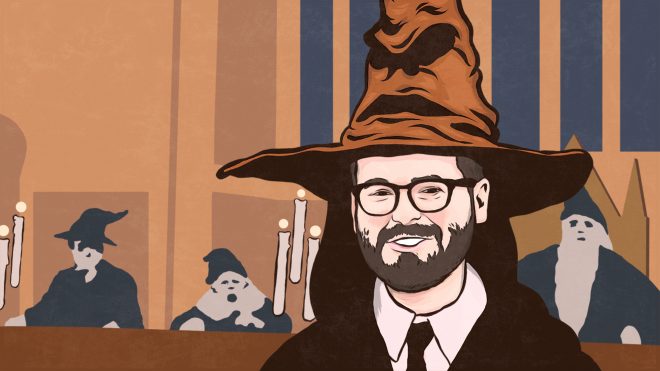 WORDS / ANDREW MCCLAIN
ILLUSTRATION / PHILLIP HUDDLESTON
Comedy writer Brad Neely recently debuted his animated show The Harper House, loosely based on his time in his hometown of Fort Smith, on Paramount+.
Since the earliest days of The Idle Class as a magazine in 2013, I've had a short list of Arkansans in show business who I wanted to interview, including Brad Neely, a Fort Smith native who caught my attention in high school with his Far Side-esque single-panel webcomics, animated shorts and unauthorized narration of the first Harry Potter film. His straight-faced weirdo sensibility resonated with me then, and now, Neely has a new animated sitcom called The Harper House on Paramount+ . I met with Neely on Zoom from the laundry room of his Los Angeles home, which has served as his office throughout the pandemic and for the entire production of The Harper House.
"We did all the casting over Zoom. We did all the directing and recording," Neely said. 
The initial buzz around Neely was generated in the mid-2000s by Wizard People, Dear Reader, his full-length narration of the film Harry Potter and the Sorcerer's Stone in which Neely inhabits the role of a misinformed superfan, characterizing young Harry as a godlike being and frequently altering the names and motives of supporting characters. 
"I feel like one of the best tools of satire is just to take on the perspective of a giant fan. I think you can really destroy something by showing how people love it."
The result doesn't read as pure mockery, though. Neely created his own parallel Potterverse with hilarious and beautifully overwritten analogies. At one point, he says of Professor Hardcastle McCormick (Professor McGonagall to most), "Her voice is chilling and like a piano made of frozen Windex." 
When I mentioned this particularly confusing, so-bad-it's-good simile to Neely over Zoom, he sheepishly admitted, "I feel that was a … a nice one, you know, for me. Sometimes when I'm working on something else, feeling a little dry or something, I have to remind myself: 'Don't forget to do frozen Windex-types of lines.' I've often wondered, can Windex even freeze?" 
After Wizard People attracted high-profile press attention, Neely seized the moment to create original material. He had been drawing single-panel comics on his blog, Creased Comics, for years, but in 2007 he created his first animated Creased Comics short: a music video titled "George Washington." Over a swaggering Casio keyboard beat, two new voices imbued our first president with godlike, larger-than-life qualities similar to those the Wizard People narrator had given Harry. 

"George Washington" was one of the earliest smash hits on YouTube and led to an opportunity for Neely to join the writing staff of South Park. He and his wife moved to Los Angeles, and Neely continued to work on his own cartoons, creating a cast of original characters that populated the fictional college town of China, Illinois. In 2011, China, IL became an animated sitcom on Adult Swim, featuring the voices of Hulk Hogan, Donald Glover, Greta Gerwig and others. It ran for three seasons. Neely continued working with Adult Swim and produced an animated variety show in 2015 called Brad Neely's Harg Nallin' Sclopio Peepio.

"After I did Harg Nallin' and China—and they canceled those shows—I had a couple [of projects] to try to keep the ball rolling," Neely said, "but part of me was just like, man, I don't know if I want to do this. You know, like, I don't like being out here. Maybe I can go back to the South. I don't know if I want to do this anymore." During this time he also explored a non-comedic musical collaboration with David Berman of the Silver Jews, cut short by Berman's death in August 2019. 

Then he got a call from Katie Krentz, a development executive at 219 Productions with a long history in animated sitcoms and a new deal with CBS. "She said 'Hey, I'm selling some shows, what do you have in the bag?' and I was like, 'I don't know I've got this crazy idea and this other crazy idea and this one about a female Homer,' and she said 'What's that one?'"That pitch led to the show Godparents, about a couple in their 30s who unexpectedly gain custody of their godchildren. "They were just terrible people, you know?" Neely said. "[There] was a female lead who got drunk and f–ked up and crashed cars, like the s–t Homer [Simpson] does. I've always been trying to do an animated show with a big, broad broad in the lead. Like an American woman, just f–kin' things up."
In The Harper House, Rhea Seehorn stars as a similar kind of female lead, with Jason Lee voicing her husband. Neely said that while the show isn't set in Fort Smith, it's loosely based on his experience there. "Fort Smith has got a north side of town and a south side of town. The south side's rich and developing and the north side's old and kind of neglected, and we play with that kind of class divide."
"I just thought, let's try and make a show for 21st century America. Put a woman in the lead. Let's not be afraid of talking about race and gender and politics … . And I'm a weirdo, but I'm not trying to make this giant relatable show. I'm just trying to make a show that feels like the America that I know and satirize the America of right now."
With regards to his Arkansas roots and future projects, Neely has mentioned in interviews going back to 2007 that he has been working on a book about the Civil War, but abandoned the project multiple times. Now he's teasing us again. "The one thing in the pandemic I was able to do [was write] that book. It's a real project, written in the Wizard People voice," Neely said, referring to the frozen Windex line. "It was going to be the follow-up to [Wizard People]. Like, how can I do this kind of voice, this kind of thing, but in a way that is mine? I'll make a bad biography of somebody in the Civil War. I'll do a bad, bad historical thing about the Civil War. I got into it."
The Harper House premiered September 16 on Paramount+.
// @BRADNEELY
// CREASEDCOMICS.COM