Offshoot Film Fest returns to northwest Arkansas
The Seedling Film Association is proud to announce the 4th Offshoot Film Fest! The fest will be held October 3-6 in the University of Arkansas Global Campus building on the downtown Fayetteville square (2 East Center Street). Weekend passes to Offshoot Film Fest are $35 and they include access to all the films, talkbacks, after parties and panel discussions. Single tickets to any event are $7. Passes and tickets are available through the website, www.seedlingfilm.com, or at the door.
This event includes over 25 hours of films from around the globe and brings together an eclectic mix of world-renowned filmmakers and artists, professional arts educators, esteemed members of the community, as well as students and film lovers from across the region. This year's categories of competition are Narrative Features, Documentaries, Shorts, Animation, Student, Low Tech as well as our very own Arkansas Connection category.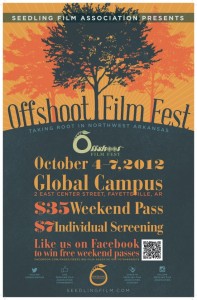 The festival kicks off on Thursday, October 3rd at 6pm with our Opening Ceremony and goes through the evening of Sunday, October 6th. Following the Ceremony on Thursday, the film 'Gordon Family Tree' will be featured as the opening night film. Screening begins at 7pm. 'Gordon Family Tree' was shot mostly in and around Northwest Arkansas in the Fall of 2012. The film involved local talent, locations, and sponsors. Seedling is delighted to announce that After Parties during the fest will be held at various locations around Fayetteville including: Union Kitchen & Drinks, The Stolen Glass Bar & Club, Powerhouse Bar & Grill, and Speakeasy. The After Parties are the perfect setting to mix and mingle with professional filmmakers.
The Seedling Film Association is dedicated to the education, networking and promotion of independent film efforts in Northwest Arkansas. Since incorporating in January of 2010, the Seedling Film Association has hosted many events including multiple screenings of independent and student films throughout Northwest Arkansas, a short film conception competition, "Grow a Film" in partnership with the Walton Arts Center's Artosphere, and the "4320 Film Challenge." This was a 72 hour film competition presented as part of ArtsFest in Bentonville in partnership with Downtown Bentonville, Inc.
If you are interested in more information about Offshoot Film Fest 2013 or the Seedling Film Association, please contact info@seedlingfilm.com or call 479-422-9958.