Norman Rockwell exhibit launches at Crystal Bridges Museum of American Art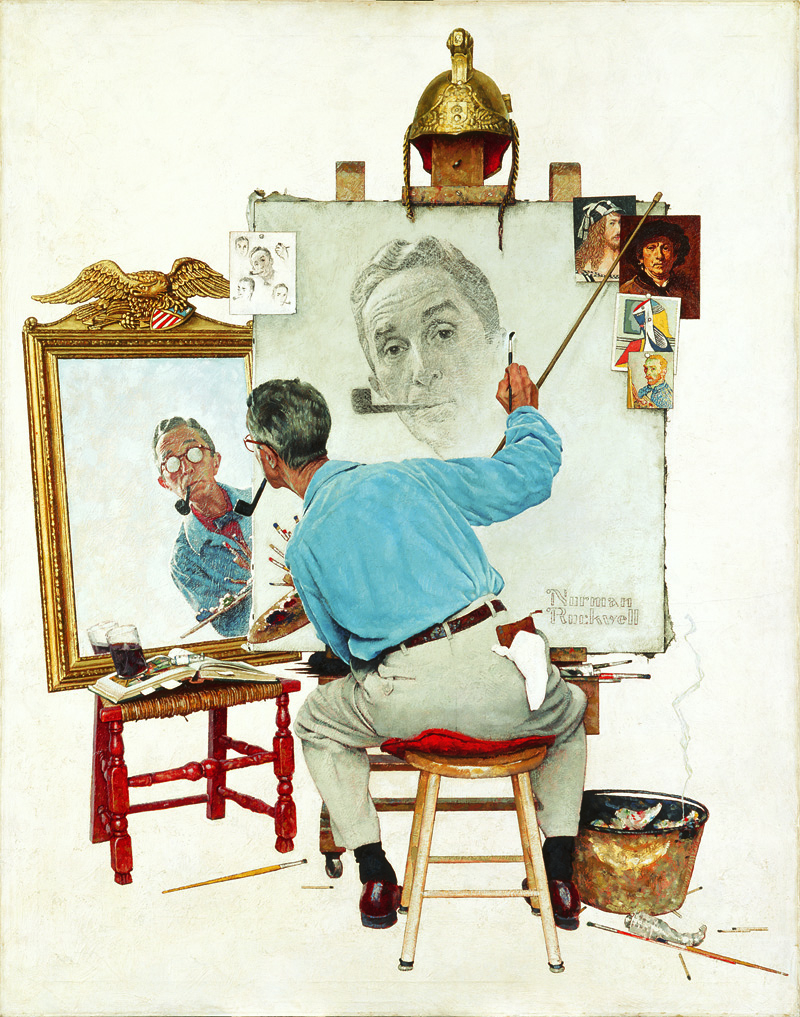 Few artists left their mark on 20th century America like Norman Rockwell. He was a keen observer of human nature and a gifted storyteller. His paintings graced more than 300 covers of the popular Saturday Evening Post magazine and he is one of the best-loved illustrators in the history of American art.
A traveling exhibition of Rockwell's paintings will open at Crystal Bridges Museum of American Art on Sat., March 9. American Chronicles: The Art of Norman Rockwell features 50 original Norman Rockwell paintings and a complete set of all 323 of Rockwell's Saturday Evening Post covers, and will be on view through May 27.
Timed, reserved tickets will be required to view American Chronicles. Tickets are complimentary for members; $12 for non-members. Youth admission to American Chronicles is free.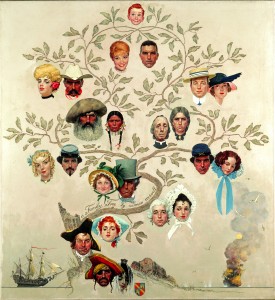 The exhibition also includes several beloved and well-known images, including Triple Self-Portrait (1960), Girl at Mirror (1954), Going and Coming (1947), and The Art Critic(1955). Also included are portraits of presidents Dwight D. Eisenhower and John F. Kennedy.
Rockwell's images helped bring art to a broad segment of the public," said Kevin Murphy, Crystal Bridges curator of American art. "His illustrations are so recognizable and popular that they helped make painted images part of mainstream visual culture."
Over time, Rockwell's illustrations have come to symbolize an idealized American dream; representing the hopes and ideals of a bygone era. However, Rockwell was keenly aware of the social and political issues of his time. Murder in Mississippi, an illustration for Look magazine about the 1964 murder of three young civil rights workers, showcases his engagement with the civil rights struggle.  The magazine eventually chose to use a preliminary sketch for publication, rather than the final painting. The original unpublished painting, as well as the oil sketch used for publication, are both included in this exhibition.
The exhibition also includes materials from the Norman Rockwell Museum's archives demonstrating how the artist worked: proceeding from preliminary sketches, color studies, and detailed drawings to finished paintings. Also included are several posed and costumed photographs Rockwell staged as references for the figures in his paintings, often using himself and family members as models. In addition, the exhibition points out some of the artistic and cultural references that were often encoded in Rockwell's work.
"Rockwell understood his place in popular culture of the time," Murphy said. "He understood that he had been adopted as an interpreter of the American dream, and he wanted his work to engage in the larger tradition of Western art, so he would put in references to great works of art through history. Sometimes they're obvious, sometimes they're not. It was a way for him to connect with great art of the past."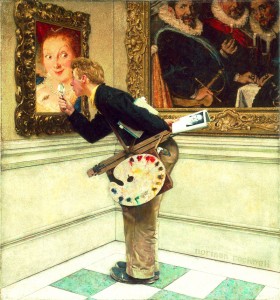 American Chronicles: The Art of Norman Rockwell was organized by the Norman Rockwell Museum, Stockbridge, MA. This exhibition is made possible with the generous support from National Endowment for the Arts, American Masterpieces Program; the Henry Luce Foundation; Curtis Publishing Company; Norman Rockwell Family Agency; and the Stockman Family Foundation.
This exhibition is sponsored at Crystal Bridges by the Bob Bogle Family, Cadillac of Bentonville, the Paul and June Carter Family, ConAgra Foods, Hallmark Cards, Inc., NWA Media/Arkansas Democrat-Gazette, and Harriet and Warren Stephens, Stephens Inc.
More details on the exhibition, program offerings, and tickets can be found here: http://crystalbridges.org/Exhibitions/rockwell.
(All images courtesy of Crystal Bridges Museum of American Art.)