REVIEW: BRAINSTORM, SW/MM/NG at Nightbird Books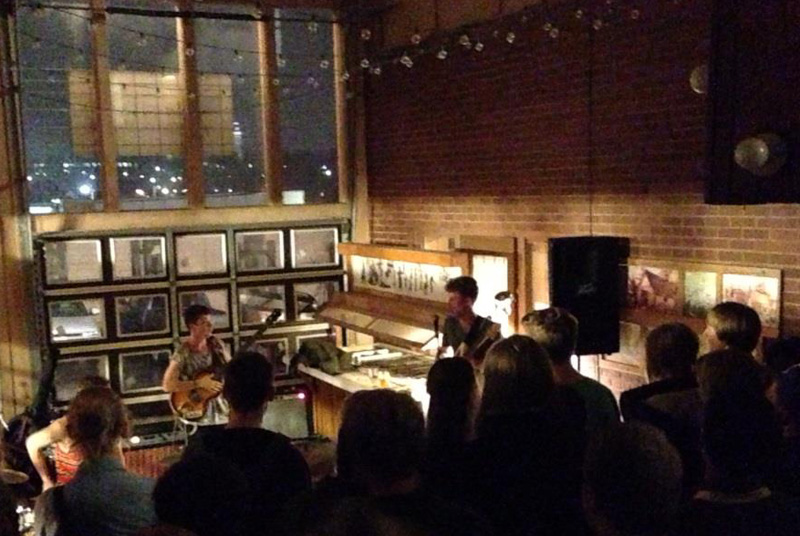 By Lauren McCormick
This weekend I spent my rainy Saturday night watching BRAINSTORM and SW/MM/NG play a delightful show whilst lightening flashed through the windows and rain trickled on the roof. This was my first time to go to a show at Nightbird Books, and man was I pleasantly surprised. This large garage turned venue is the perfect setting for shows like these, intimate and energetic.
BRAINSTORM was finishing up their sound check and a crowd began to fill the bookstore, everyone mingling while sipping on their beer and coffee. The lights flashed and next thing I knew BRAINSTORM took the stage. And with vengeance.
From beginning to end this experimental-pop trio from Portland had the crowd dancing. And when I say dancing, I don't mean some casual head bobbing with a couple of feet tappers. I'm talking like jumping around with some serious head banging, and it was because BRAINSTORM was that fun to watch.
They intricately layered vocals from all three members on top of melodies that suck you in, and then use percussion to compliment those melodies perfectly. The harmonies of female band member, Tamara Barnes, add a sort of tasteful elegance to their still upbeat songs, a combination that I found lovely and unique. They were having fun on stage, and without a doubt the crowd was too.
After BRAINSTORM finished rocking everyone's brains, a local favorite SW/MM/NG claimed the stage. I have heard a lot of buzz about this foursome prior to the show, and after watching them kill it on stage I see why.
They have this West Coast reminiscence about them with their guitar lines and subdued vocals that I was amazed to see in a band from Arkansas. The crowd was singing along and dancing the whole time, only taking a break to shout song requests in between songs. I really dig what these guys do, and it's very obvious everyone else does too.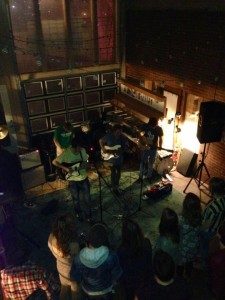 BRAINSTORM just kicked off a tour that will last about month, and they will be stopping this week in Austin, Texas for a few shows at SXSW. They're playing five festivals coming up, one of which is Treefort Music Festival in Boise, Idaho where they will be opening for Animal Collective. Safe to say these guys are going places. They have a new single out called "She Moves" which I've already had on repeat, so check it out online along with their full length album Heat Waves.
SW/MM/NG also just started a month tour which will taking them all over the country, stopping in Austin for SXSW's MTV Showcase and then wandering quite a
few states from there. I think the country is about to catch on to this local buzz, and when they do I see big things in the future for SW/MM/NG. Check out their free demo on their Bandcamp, and if you can, catch them on their March tour.