Mid-Century Modern Nosh: Bloody Mary Aspic Shots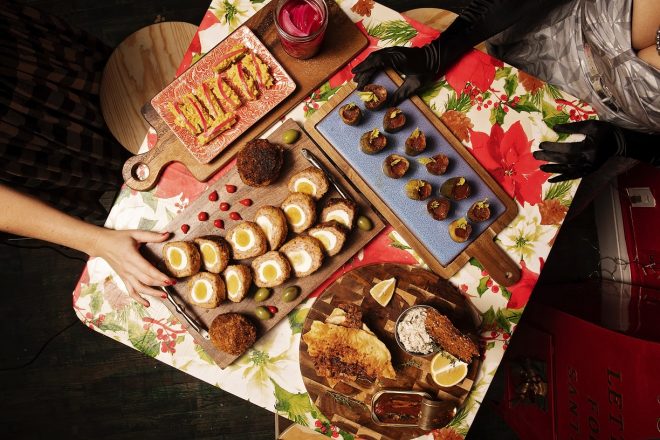 WORDS + RECIPES / CASE DIGHERO
PHOTOS / MEREDITH MASHBURN
At The Idle Class, we live to host a fabulous party, and if you were a guest at the 2019 Black Apple Awards, then you know it's one of the things we do best. In an attempt to celebrate the Golden Age of Fabulous Parties, that being the Mid-century Americana, we thought it only right that we focus our soiree eye on something, shall we say, a little more retro-centric from that extraordinary era.   
Mid-century party food was (and still is) all about novelty; a dramatic juxtaposition from the rationing that gripped Americans during WWII.  Suddenly, in the matter of a few years we went from potted meat to sardines suspended magically in gelatin thanks to exciting food technology.  Plus, everything was served tiny and bite sized; a way to curate miniature, edible works of art for friends, family, and guests. Some popular items from that time included deviled eggs, pimento cheese, finger sandwiches with tuna and chicken salad, sardines, peanut butter in celery, and just about anything that could be suspended in aspic….my personal favorite:  Spaghetti-O no you didn't!
We've created our own Mid Century Modern snacks for your approval, teeming with layers of color and flavors that will no doubt illicit BOTH cheers and jeers from your cocktail party guests.
BLOODY MARY ASPIC SHOTS
1 cup Tomato Juice
2 tbsp. Pickle Brine
2 packages Gelatin
2 tsp. Horseradish
1 tsp. Worcestershire
1 tsp. Sri Racha
8 Large Dill Pickles, halved
Seasoned Salt 
Celery Leaf, for garnish
Using an apple corer, hollow out each halved pickle, then gently slice each end to create a flat base; rim the top of each halved pickle with seasoned salt and set (top up) in Tupperware container.  Next, mix tomato juice with pickle brine, horseradish, Worcestershire, and sri racha; whisk in gelatin; then pour enough of the mixture into each pickle to the top. Allow to set up for two hours, then serve with garnish of celery leaf.