May Flowers at the Justus Fine Art Gallery Virtual Gallery Walk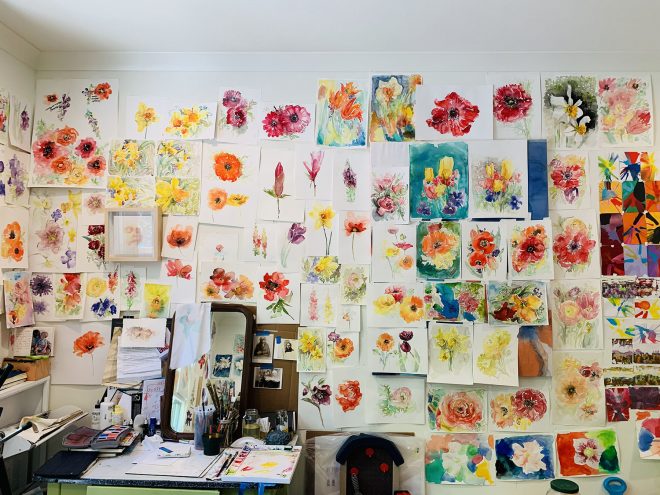 The May exhibit at Justus Fine Art Gallery will feature a selection of work pertaining to flowers by Susan Baker Chambers, Dolores Justus, Linda Palmer, Laura Raborn, Gary Simmons, Rebecca Thompson, Steven Wise, Emily Moll Wood, and others. Sculpture by Mia Hall, Robyn Horn, and Sandra Sell will also be on display, along with woodturned vessels by Gene Sparling, and original jewerly by Amanda Heinbockel and others. The show will open with a virtual Gallery Walk on Friday, May 1, viewable with a link on the gallery's website and on the website for the Hot Springs Cultural Alliance. The virtual Gallery Walk will be available for viewing throughout the month. Once permission to safely reopen is granted in consideration of the coronavirus precautions, Justus Fine Art Gallery will resume regular business hours. The gallery is currently open by appointment. The exhibit will be on display May 1-30, 2020.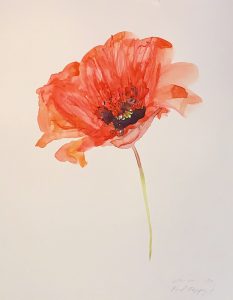 Emily Moll Wood's unframed Flower Studies and Linda Williams Palmer's graphite floral drawings were created during the recent period of isolation due to the COVID-19 crisis. Many artists have used this period of being homebound to devote more time to their work and some have discovered new directions along the way. Many have also gained a greater appreciation for the role that creating art plays in their own lives.
"I started painting these watercolor flowers in February of this year just to become more familiar with something to teach for an upcoming workshop. I normally paint people, so painting flowers is not something that was on my radar but after experimenting for a week, I couldn't stop painting flowers. I realized it was the process of painting these flowy flowers (not the end result) that I needed. Painting them became meditative, relaxing, uplifting, and a form of therapy, especially since the global pandemic started. I found that I need to paint flowers to get through these days and I'm hoping that the results of my process can lighten and brighten someone else's day."  – Emily Moll Wood
The May Flowers Exhibit will include several of Susan Chambers' brightly hued garden paintings. One of her paintings is entitled "Soliphilia," which is defined as "the love and responsibility for a place, bioregion or planet, associated to the unity of interrelated interests within it," according to an article, The niche of words: Soliphilia found on the Global Observer's blog. A respect and delight of the interrelation in nature is evident in Chamber's paintings of her garden world as vines, leaves, fruit, flowers, pollinators, and birds are intertwined in her engaging compositions.
Owned by artist Dolores Justus, Justus Fine Art Gallery offers a wide range of original art including sculpture, paintings, ceramics, photography, and more by recognized artists. Opening receptions are held in conjunction with the Hot Springs Gallery Walk held from 5-9 p.m. the first Friday of every month in downtown Hot Springs. Hours are 10 a.m. – 5 p.m., Wednesday through Saturday and by appointment. Justus Fine Art Gallery is located at 827 A Central Avenue in Hot Springs, Arkansas. For more information, call 501-321-2335 or visit online at justusfineart.com.
Featured image:  Flower Studies studio shot, courtesy of Emily Moll Wood