Matt McLeod Fine Art Gallery set to open new show by Charles Henry James on May 10th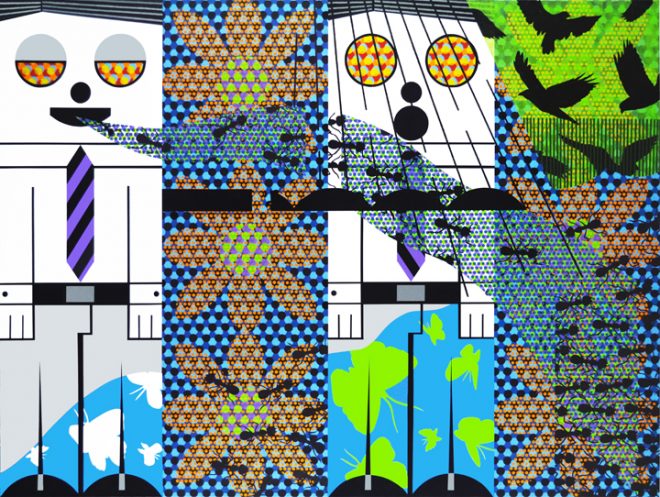 Matt McLeod Fine Art Gallery is hosting the opening reception of Utopia Dystopia, the latest collection of paintings by artist Charles Henry James,Thursday, on May 10th, from 5:00 pm to 9:00 pm . The reception includes live music by Jeff Dee Laux starting at 7 p.m. Refreshments will be served. The exhibition continues until June 28th.
"My paintings act as a safety valve, generating fixed responses to human chaos. The ingredients include ontology, Buddhism, horror/sci-fi films, comix, psychedelics, and humor. Add a healthy disdain for corporatist culture and you have a good idea where my art is coming from. The work distills what I hope is a credible and potent artistic extract," said James.
McCleod expressed his views on the work as well.
"When you experiences Charles Henry James's work, you are left intrigued and open to interpreting it in multiple ways," says Matt McLeod, proprietor of Matt McLeod Fine Art Gallery. "You can see images of man made into manmade structures. Beautiful landscapes are the backdrop for buildings and signs of capitalism. Plus James' color choices and brushwork looks like digital pixilation. The result is the art feels contemporary and computer generated. James allows the viewer to bring his or her own experience to interpreting the work. But, the artwork in Utopia Dystopia can be interpreted in so many different ways. It is the ambiguity that makes the work so intriguing."
Praise for Charles Henry James
"Melding folk art with the digital age, Charles Henry James is at once dystopian and utopian. His paintings are visual embodiments of the complex set of political, moral, ethical, and aesthetic contradictions we feel every time we crack a browser. As testimonies to the power of paint in a world of pixels, these paintings are urgent, at once eternally iconic and at the same time, pulsatingly now." — Kenneth Goldsmith, American poet and author, Poet Laureate at MoMa.
For more information about the Utopia Dystopia exhibition, please call Matt McLeod Fine Art Gallery at 501-725-8508. You can also email: matt@mattmcleod.com or visit www.mattmcleodgallery.com.