MAPS AND MENUS: Atlas Restaurant to open in historic downtown building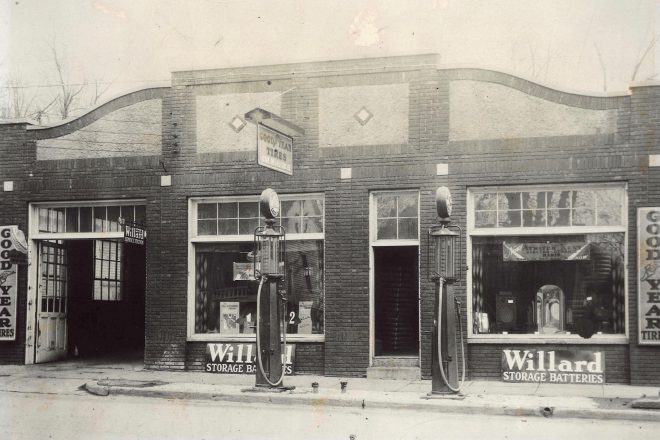 WORDS / LAUREN MCCABE
PHOTOS COURTESY / ATLAS RESTAURANT TEAM
Nestled at 208 North Block Avenue in Fayetteville is a redbrick building known as the Ellis Building, which has been home to a number of businesses since it was first built in 1923. Elliot Hunt and Brandon Rostek have taken the historic venue under their wing in order to create their new restaurant, Atlas. They hope to provide a "culinary journey across six continents" that evokes a spirit of adventure in all who may come to eat there.
Hunt, a chef who has traveled around the world in order to satisfy his craving to learn from diverse culinary traditions and to never feel constrained to one method of cooking, was classically trained in Italian and French cuisine.
"I'm nearly as passionate about travelling as I am about cooking," said Hunt. "I love to explore new cultures and expand my culinary knowledge by sharing the locals' pride in their traditional food, whether it be creating a dal during a homestay in India by following a generations-old recipe, eating roasted guinea pig in a roadside cafe in the Andes, tasting grilled grubs in the Amazon in Ecuador, enjoying octopus in a tapas bar in Barcelona, or dining with a Berber community in the Sahara Desert of Morocco on Lamb Tagine made over a fire in the dessert. It is through my travels that my cooking evolves."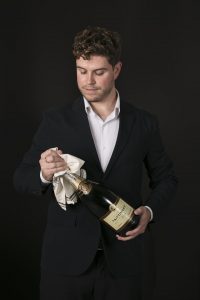 Rostek had dreamed of owning a restaurant since he was a child. With his father a chef and his mother a general manager, Rostek grew up in the hospitality business. It was working together at a Fayetteville restaurant that Rostek and Hunt connected and collaborated.
"We were both eager to push the boundaries in the food and beverage scene of Northwest Arkansas. We set out to define the scope of the project and explore the possibility of going into business together. The rest is history."
Hunt knew from the beginning that he wanted to purchase and restore the Ellis Building. "Long before I was even able to entertain the possibility of opening a restaurant, my parents asked me which building in Fayetteville would be my dream location if there was nothing to limit my choice. Without hesitation, I named the Ellis Building," Hunt said. 
The decor of the restaurant, Hunt said, is inspired by the brick style of the building, and consists of pieces taken from travels all over the world, such as a 100-year-old stacking brass lunchbox from India, as well as a set of 19th-century flour scales from France.
"The selection of decorative items are meant to evoke the spirit of adventure that we are trying to achieve in the dining experience," Hunt said.
Atlas' menu, which includes exquisite and sometimes daring food from around the world, is "not meant to recreate traditional dishes from around the world," Hunt says, but to encourage visitors to "explore flavors from different countries to create an entirely different world of tastes."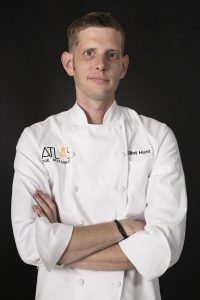 For first-time guests, Hunt recommends the Belgian Endive salad, which is arranged to look like a bird's nest made from lettuce and other ingredients surrounding a poached egg at the center of the dish. However, if a guest is to visit and look for an adventurous-eating experience, Hunt would point them toward the Grilled Octopus poached in red wine and aromatics.
"I think a lot of people don't think twice about eating calamari but are somewhat fearful of octopus even though they are cousins," Hunt said. "But there is nothing to fear because octopus is delicious."
Though there are countless chefs and mentors that have come to inspire Hunt and his culinary style, he would take an opportunity to cook and showcase his skills alongside family members that have passed on.
"I really wish I could cook alongside some of the family members I have lost over the years. Both my grandfathers who fought in World War II and were both builders and artisans who would marvel at the restoration of the building where Atlas is located. My aunt and godmother, who was an avid cook, farmer, canner, was such a strong supporter of my aspirations to become a chef."
To entice residents of Fayetteville and beyond to come experience Atlas, Hunt points to the dedication of the Atlas team.
"Everyone on our team is committed to delivering an experience that takes diners on a journey involving all the senses," Hunt said. "We believe that everything we do has a purpose, that the tiniest details in food and service matter, and that they add up to something really big. Having dedicated our entire lives to hospitality, we aim to foster culinary discovery for the community, so we invite diners to simply 'experience our world.'"
Atlas is set to open this month. Keep up with restaurant happenings at atlastherestaurant.com and @atlastherestaurant on Facebook andInstagram and @atlastherestau on Twitter.