A LIFE IN PIXELS: Artist Casey Bourke built her career with glitch-style paintings until a cancer diagnosis nearly derailed her. Now she's rebuilding, one piece at a time.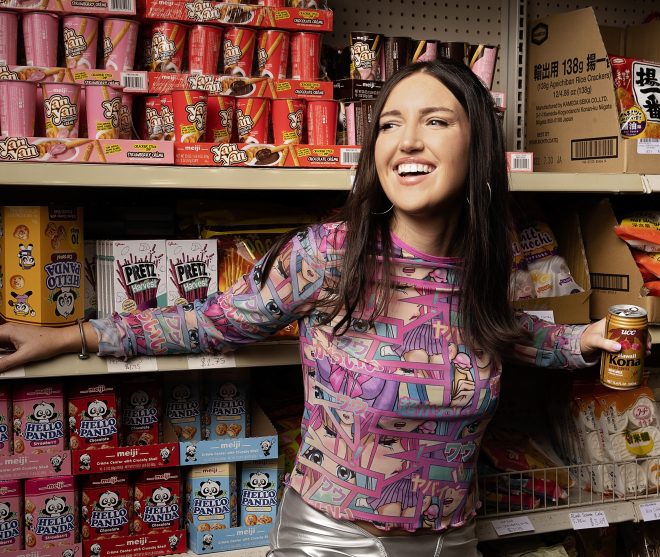 WORDS / SUMMER EL-SHAHAWY
PHOTOS / MEREDITH MASHBURN

For Casey Bourke, also known as Printgurl, creating art is more than a hobby. She has been making art since the age of six, but started taking it seriously at 26.
"I was battling depression at the time and was at a crossroads with where I wanted to go in my life," she said. "I thought—why not? Art definitely made me feel better and made me feel like I could survive in this world, and I thought, let's take a chance."
She put her website together, started pricing her pieces and booking art shows, and launched herself into the art world with a move to Los Angeles where she was introduced to glitch art. The 32-year-old painter and visual artist now specializes in glitch art and pixel painting. 
"My art style is glitchtastic, sexy, and humorous," she said. "I'm really into glitchy art and pixel art—sometimes I put glitches within my pixel paintings."
Glitch art is a style normally executed in a digital medium, where the artist manipulates the data to create a glitch or malfunction in the piece. Bourke wanted to try something different.
"I thought it would be cool to do glitch art in oil painting," she said. "What if I did a girl—and you're not sure what it is, but maybe her legs are spread; what does that mean for censorship? Is it really what your mind thinks it is, or is it just a bunch of pixels on a canvas?"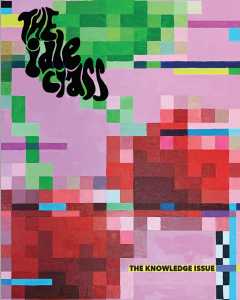 While creating is fulfilling for Bourke, making art also helped her through difficult times. In 2021, Bourke was diagnosed with stage four metastatic melanoma. The diagnosis came after she went to get a suspicious mole on her back checked. At first, the doctor said it didn't need to be removed. 
"Eight months later, I went back and they finally removed it," she said. "Two days after that, I got a voicemail telling me I had cancer. The voicemail is so cheerful, and I'm not usually someone who gets angry at life situations, but I still find myself angry at those doctors."
Bourke said she tries not to hold onto the anger and now has great surgeons and oncologists who are saving her life. Through her experience, she said she has gained a lot of respect for the medical field and hopes to one day be a nurse.
"Visiting MD Anderson, the nurses were so helpful and encouraging, even though I was coming in with stage four cancer at 31 years old," she said. "If I can hold someone's hand in the future and tell them it'll be okay, my whole life will make sense."
The most common way to treat melanoma is through immunotherapy, but with Bourke, the treatment caused hyperprogressive disease and the tumor tripled in size in a month.
"We had to stop immunotherapy and do four weeks of aggressive radiation," she said. "Usually, people don't do four weeks and I had no idea how much pain I would be in and how damaging it would be to my body."
During the time she was going through radiation, Bourke said she was too weak to pick up a paintbrush or create anything on her ipad.
"One day, after surgery, I did a birds-eye-view of the IV and drainside and all the things in and on me," she said. "I made a rough self-portrait and it really helped me get through that moment."
Bourke had another moment that reinforced her dedication to art. 
"Winning [Favorite Artist at] the Black Apple Awards was a nice surprise," she said, "It made my heart feel really really good. It made me realize to never give up, no matter how crappy or hopeless you may feel."
At the beginning of her cancer journey, Bourke moved to Little Rock to be with her family. Both her parents have survived stage four cancer.

"My dad survived stage four lymphoma when he was 40 and I watched him go through chemo, so if anyone can give me advice on how to overcome cancer, it's him," she said. "He is my hero."
Right now, Bourke is on a pill version of chemo and said she is feeling hopeful because her three-month PET-scan showed no new cancer growth. She is also a candidate for a new clinical trial where doctors inject a vaccine directly into the melanoma tumor. 
Bourke plans to apply for nursing school at Northwest Technology Institute in January, to complete the licensed practical nurse program and later go on to become a registered nurse. 
"I also want to remind people to get skin checks at the dermatologist," she said. "I didn't realize the importance of it."