Justus Fine Art Gallery to host mixed media artist Donnie Copeland for March exhibit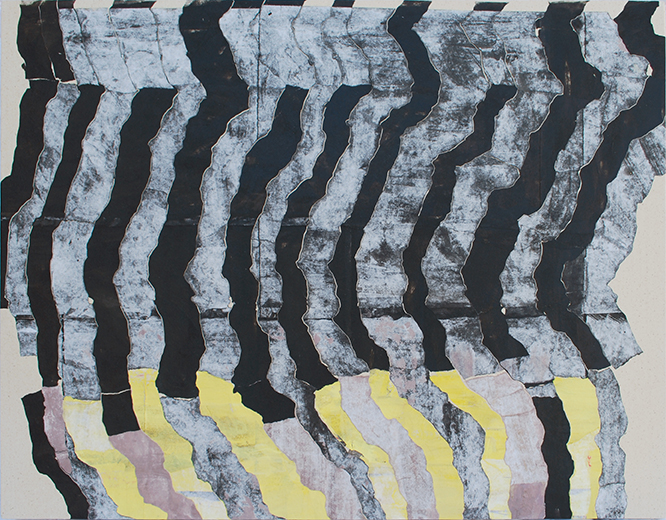 The March exhibit at Justus Fine Art Gallery will feature the mixed media abstract paintings of Donnie Copeland, along a selection of work by additional artists. Copeland works primarily with painted paper to produce non-objective, collaged canvases that emphasize pattern, texture, color and mark. His works are a synthesis of the visuality of landscapes such as the planted fields and prairie that run along the Mississippi and Arkansas rivers, as well as that of peoples and cultures local and distant, rural and urban. The exhibit will open with a reception from 5-9 p.m., on Friday, March 4 in conjunction with the monthly Hot Springs Gallery Walk. The show will be on display March 4-30, 2016.
"Bent curvilinear bands are painted on paper and then affixed to the canvas which in turn serves as a platform for the abstractions. There is a definitive point of distinction between the paper, paint and canvas. Copeland's paintings suggest cross-sections of ambiguous natural forms or… geological structures and sedimentary materials. Through his investigation of charcoal, acrylic and paper, Copeland's lyrical strata emerge as both rich and detached. The worked-over surface of the collage elements contradicts the austerity of the pristine canvases." – Eric Sutphin, Boundary Hunters: Four Parts to Every Story. Exhibit Catalog, 2012.
Copeland's paintings were recently featured in a solo exhibit entitled Interrupted Paths (2015) at the Aughinbaugh Gallery of Messiah College in Mechanicsburg, Pennsylvania. His work is also included in Abstract AR(t) at the Alexandre Hogue Gallery at the University of Tulsa in Tulsa, Oklahoma (2016). In 2012, Copeland's work was part of Boundary Hunters, an exhibit featuring seven contemporary painters at Alfred University's Fosdick Nelson Gallery in Alfred, New York. Other showings include exhibits at the Kansas City Artist's Coalition, the Arkansas Arts Center and exhibits in Louisiana, Minnesota, Missouri, North Carolina, South Carolina and Texas.
Donnie Copeland earned a BA in Studio arts from Ouachita Baptist University and then continued his education at the University of Dallas where he obtained a MFA in painting. Copeland currently serves as Associate Professor of Visual Arts and Chair of the Department of Visual Arts at Ouachita Baptist University where he teaches painting, drawing, and art history. He and his wife and three children live in Arkadelphia, Arkansas.
Owned by artist Dolores
Justus
,
Justus
Fine Art Gallery offers a wide range of original art including sculpture, paintings, ceramics, photography, and more by recognized artists. Opening receptions are held in conjunction with the Hot Springs Gallery Walk held from
5-9 p.m.
the first
Friday
of every month in downtown Hot Springs. Hours are
10 a.m. – 5 p.m.
,
Wednesday
through Saturday or by appointment.  For more information, call
501-321-2335
or visit online at 
justusfineart.com
.
Image:  Paths Reconstructed (STR102), acrylic, colored pencil, gouache, paper on canvas, 30" x 38", 2015