Justus Fine Art Gallery presents "Fall Patterns" show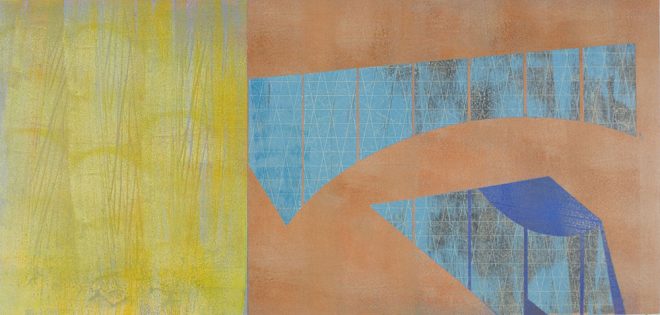 The October exhibit at Justus Fine Art Gallery will feature work by Dustyn Bork, Donnie Copeland, Robert Fogel, Laura Raborn, and others.  
Fall Patterns
 will open with a reception from 
5-9 p.m.
 on 
Friday, October 6
, in conjunction with the monthly Gallery Walk in downtown Hot Springs. The exhibit will be on display 
October 6-31, 2017
.
A selection of Dustyn Bork's bold geometric acrylic on board paintings will be included in the exhibition. Bork earned his MFA in printmaking from Indiana University Bloomington, Indiana and his BFA in printmaking from the University of Michigan in Ann Arbor, Michigan. Bork is currently an Associate Professor of Art at Lyon College, a small, private liberal arts college in Batesville, Arkansas. His work has been exhibited in numerous exhibitions regionally, nationally, and internationally. Recent solo exhibits include: Hendrix College, Conway, AR; Material Art Space in Memphis, TN: the Thea Foundation, Little Rock, AR; the Art Museum of the University of Memphis, Memphis, TN; and Coe College in Cedar Rapids, IA.
I explore cultural notions of design, architecture, and pattern through abstraction. My work focuses on the formal contrasts of renewal and destruction in the constructed environment. I juxtapose the intentional design of architecture and the incidental structure of visual forms in various stages of decay and renewal. Substantiality is a key consideration in my work. I want to entice my viewer into a dialogue to consider issues of permanence, transience, and form. These abstractions are meant to be akin visually to koans: a Japanese tradition of stylistically imbedding pieces or snippets of dialogue into a text. In these hybrid visual works, there are large sections or segments of shape or pattern. Just as koans seem to embody a hidden or mysterious connections, these works offer abstract entrance points to the concrete structure from the forms the were derived." 
– Dustyn Bork
Abstract painter Donnie Copeland works primarily with painted paper to produce  non-objective, collaged canvases that emphasize pattern, texture, color and mark. His works are a synthesis of the visuality of landscapes, such as the planted fields and prairie that run along the Mississippi and Arkansas rivers, as well as that of peoples and cultures local and distant, rural and urban. Donnie Copeland earned a BA in Studio arts from Ouachita Baptist University and then continued his education at the University of Dallas where he obtained a MFA in painting. Copeland currently serves as Associate Professor of Visual Arts and Chair of the Department of Visual Arts at Ouachita Baptist University where he teaches painting, drawing, and art history.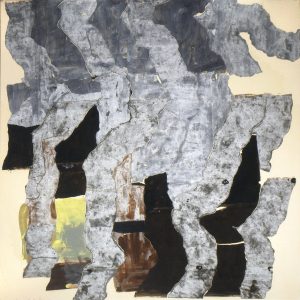 Copeland's paintings were featured in a solo exhibit entitled Interrupted Paths (2015) at the Aughinbaugh Gallery of Messiah College in Mechanicsburg, Pennsylvania. His work was also included in Abstract AR(t) (2016) at the Alexandre Hogue Gallery at the University of Tulsa in Tulsa, Oklahoma. In 2012, Copeland's work was part of Boundary Hunters, an exhibit featuring seven contemporary painters at Alfred University's Fosdick Nelson Gallery in Alfred, New York. Other showings include exhibits at the Kansas City Artist's Coalition, the Arkansas Arts Center and exhibits in Louisiana, Minnesota, Missouri, North Carolina, South Carolina and Texas.
"Bent curvilinear bands are painted on paper and then affixed to the canvas which in turn serves as a platform for the abstractions. There is a definitive point of distinction between the paper, paint and canvas. Copeland's paintings suggest cross-sections of ambiguous natural forms or… geological structures and sedimentary materials. Through his investigation of charcoal, acrylic and paper, Copeland's lyrical strata emerge as both rich and detached. The worked-over surface of the collage elements contradicts the austerity of the pristine canvases." – Eric Sutphin, Boundary Hunters: Four Parts to Every Story. Exhibit Catalog, 2012.
As a biology professor for 25 years prior to pursuing a career in art, Robert Fogel developed a deep appreciation for nature, especially landforms and rocks that exhibit strong lines, textures and color. Many of his sculptures evoke rock formations, landforms and other natural features that he observed during the summers he spent collecting fungi in the West. Upon moving to Louisiana, Fogel also became intrigued by the meandering streams and the oxbow lakes and bayous created where streams have changed course. By offsetting sections of the "Meander" sculptures, he breaks up the flat surface adding interest. The offsets also reference the geologic, political, and developmental forces acting on the rivers in the region. A solo exhibition of Fogel's work 
Finding My Way: An Exploration in Art
 was held at the South Arkansas Arts Center September 2-
28, 2017
. Fogel's work has also been selected for inclusion in several prestigious exhibitions including Louisiana's largest juried art show – 
Art Melt 
2013, 2014, and 2015; 
A Sense of Place 2017
 Exhibit at the Gertrude Herbert Institute of Art in August, GA; and the 
2013 Joshua Tree National Park Art Show & Faire
.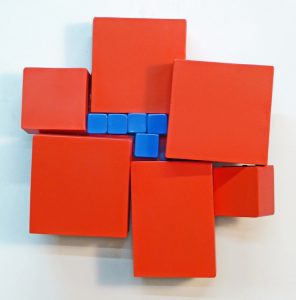 I started making sculptures to remind me of places and scenes in the Great Basin. My goal is to minimize the detail so that the viewer's own experiences, memories and imagination become part of the experience. The challenge is to reduce my memories to a minimalist set of forms, lines, colors and textures. A successful sculpture evokes specific memories for me. The sculptures presumably evoke different, but perhaps similar, memories for others. – Robert Fogel
Laura Raborn's paintings have been exhibited throughout Arkansas and are in private collections across the United States, including the CARTI Collection in Little Rock, Arkansas. Her work has earned numerous awards including the Wilma and Jack Diner Purchase Award at the University of Arkansas at Little Rock and the Juror Award at the Rosenzweig Biennial Juried Exhibition. Raborn's work has also been selected for inclusion in many notable exhibitions including: the 58th Annual Delta Exhibition, Arkansas Arts Center, Little Rock, Arkansas (2016); Small Works on Paper Exhibition, Arkansas Arts Council, Arkansas (2015);  Texarkana Regional Arts and Humanities Council 27th Annual Juried Exhibition, Texarkana, Texas (2015); Texas & Neighbors Regional Art Competition & Exhibit, Irving, Texas (2015). Raborn holds a Masters in Art with a focus on painting and teaches classes at the Arkansas Arts Center's Museum School.
"I paint and draw the human figure and places as a way to explore modern life. Formal contrasts are important elements in my work: for example, there is representation contrasting abstraction. The abstract layers interrupting the body or place allude to the idea of time, or a frozen moment in time, which is difficult for us to recognize in a visually inundated and fast-paced world. Recognizable forms emerge from obscured layers of paint, which refers to the vast amount of unknown information in everything we see." – Laura Raborn
Owned by artist Dolores Justus, Justus Fine Art Gallery offers a wide range of original art including sculpture, paintings, ceramics, photography, and more by recognized artists. Opening receptions are held in conjunction with the Hot Springs Gallery Walk held from 
5-9 p.m.
 the first Friday of every month in downtown Hot Springs. Hours are 
10 a.m. – 5 p.m.
, 
Wednesday
 through Saturday or by appointment. Justus Fine Art Gallery is located at 
827 A Central Avenue
 in Hot Springs, AR. For more information, call 
501-321-2335
 or visit online at 
justusfineart.com
. ###