Justus Fine Art Gallery in Hot Springs announces April exhibits
The April exhibit at Justus Fine Art Gallery will feature a selection of work by Matthew Hasty, Robyn Horn, Dolores Justus, Jill Kyong, Sandra Sell, Tony Saladino, Gene Sparling, Emily Wood, and others. The exhibit will open with a reception from 
5-9 p.m.
 on 
Friday, April 6
, in conjunction with the monthly Gallery Walk. The show will be on display 
April 6-30, 2018
.
New landscape paintings by Memphis artist Matthew Hasty will be on display, along with paintings by Dolores Justus, Tony Saladino, and Emily Wood. Justus' work was recently selected for inclusion in the filming of the third season of HBO's True Detective in Fayetteville and is also featured in an exhibit at the Avenue Restaurant in the Waters Hotel in Hot Springs during the month of April.
A new interactive table with sculptures, entitled Stone Table by Jill Kyong will be featured during the exhibit. The piece is a part of Kyong's series of work focusing on connection. Kyong invites viewers to create towers of her wooden "rocks" and to send images of their creations for a chance to win their rock tower.
A selection of wood sculptures by Robyn Horn will be included in the exhibit, along with wood sculptures by Sandra Sell. Sell's work was recently included in 
Materials Hard + Soft
, an international exhibition for contemporary fine art craft in Denton, Texas, where she was awarded first place. Gene's Sparling's work was also selected for the 2018 international exhbition of 
Materials Hard +Soft
 in Denton, Texas. New selections from Sparling's wood turnings will be featured in the April show.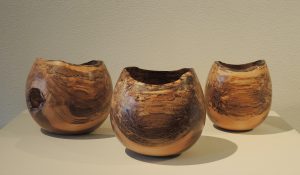 Owned by artist Dolores Justus, Justus Fine Art Gallery offers a wide range of original art including sculpture, paintings, ceramics, photography, and more by recognized artists. Opening receptions are held in conjunction with the Hot Springs Gallery Walk held from 5-9 p.m. the first Friday of every month in downtown Hot Springs. Hours are 10 a.m. – 5 p.m., Wednesday through Saturday or by appointment. Justus Fine Art Gallery is located at 827 A Central Avenue in Hot Springs, AR. For more information, call 501-321-2335 or visit online at justusfineart.com.
Featured image:  "Solstice Sun" by Matthew Hasty