Experience Fayetteville announces locations for Green Candy Art Action; Celebration to be held at Walker-Stone House Aug. 25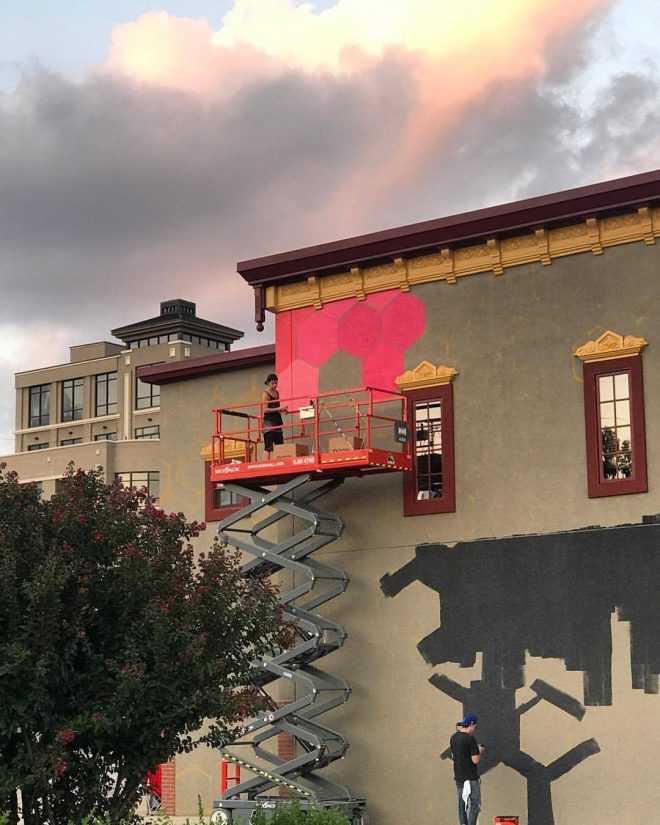 Locations for the upcoming public art event, Green Candy, have been announced. International and local artists are currently transforming sites around downtown Fayetteville into works of art.
Experience Fayetteville is presenting the event and appointed global creative house Justkids to curate Green Candy, an art action aimed to create community conversations around waste and sustainability through engaging art projects.
Participating artists  include Bordalo II, Ernest Zacharevic, Bicicleta Sem Freio, Marina Zumi, Jason Jones and Gina Gallina. Justkids worked with each artist to determine locations best suited for their individual talents, and where the works will be most appreciated by the public.
The Walker-Stone House, 207 Center St., will host three separate artworks that include a three-dimensional piece by Portuguese multimedia artist Bordalo II, an installation by local crochet artist  Gina Gallina and an immersive room  by Brazilian artists Bicicleta Sem Freio.
Mural locations in the downtown area include One West Mountain, featuring new street pieces by Lithuanian artist Ernest Zacharevic; Hog Haus Brewing Co, hosting awe inspiring cosmic work by Argentinian artist Marina Zumi; and 545 W Center, featuring new artwork by local artist Jason Jones.
A celebration of Green Candy will be held at the Walker-Stone House Friday, Aug. 25 from 1 – 4 p.m. The event is hosted in collaboration with the Roots Festival and will feature live music and live screen printing. Attendees are invited to bring old T-shirts and apparel to be UpCycled with a limited edition design by Justkids. The event is free and open to the public. Maps to locate the artwork will be available and a pop-up shop will feature variety of Green Candy and Justkids merchandise as well as works by Ana Maria.
The Bicicleta Sem Freio installation a Green Candy pop up shop will remain open to the public on  Saturday and Sunday. For specific times, visit facebook.com/FayettevilleAR
About Green Candy
Green Candy is an art action aimed to create community conversations around waste and sustainability through interactive and participatory art. Presented by Experience Fayetteville, this inaugural edition takes place in the heart of Historic Downtown Fayetteville and will activate public spaces with engaging art by international artists Bordalo (Portugal), Ernest Zacharevic (Lithuania), Bicicleta Sem Freio (Brazil) and Marina Zumi (São Paulo). As a result of an open request for proposals, notable Northwest Arkansas artists Gina Gallina and Jason Jones also will join the project lineup, creating site-specific public artwork.
About Experience Fayetteville
Experience Fayetteville is the convention and visitors bureau for the city of Fayetteville, Arkansas. It is responsible for marketing the city to visitors and achieving a positive economic impact through tourism. It is the first point of contact for convention and meeting planners, sports tournament coordinators and tour operators. Experience Fayetteville oversees the visitors bureau and its store, as well as the Fayetteville Town Center and the historic Clinton House Museum. The Fayetteville Advertising and Promotion Commission is the governing body of Experience Fayetteville. For more information on Fayetteville, Arkansas, visit experiencefayetteville.com.
About Justkids
Justkids is a creative house that conceives, produces and promotes comprehensive art projects, on an international scale, with some of the most engaging artists, curators and  strategic consultants. Founded in 2014, Justkids supports a diverse team of inspirational pros and upcoming talents to meet the demands of a constantly evolving audience, by delivering public art, gallery shows, artist residencies programs and brand collaboration projects, offering new experiences with top tier visuals.