The Identity Theft of Mitch Mustain set to premiere at the Little Rock Film Festival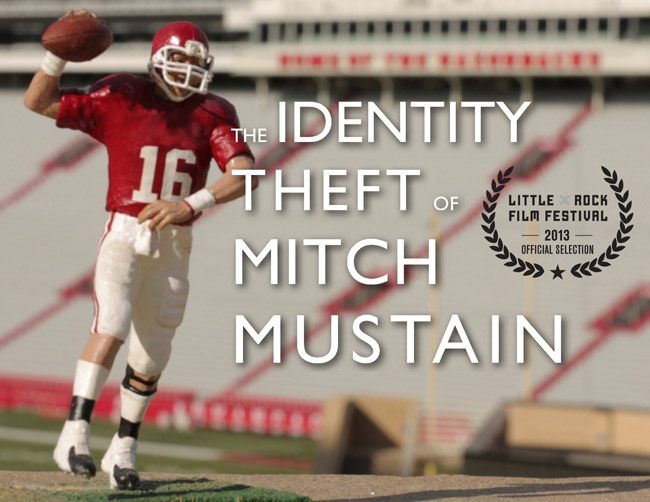 WORDS / KODY FORD
Mitch Mustain arrived at the University of Arkansas in the fall of 2006 as the most heavily recruited player in the country. Hailing from neighboring Springdale, his recruitment was seen as a coup d'état for the Razorbacks and his reconciliation with his former coach Gus Malzahn, was seen as the future of Hog football. He started in the second game of the season and went on to have a record of 8-0 as a true freshmen starter.
For some reason Coach Houston Nutt put him behind sophomore QB Casey Dick. By the end of his freshmen year, Mustain was granted his transfer request to University Southern California after much controversy.
The whole incident piqued the interest of filmmaker Matthew Wolfe, who years later decided to get to the heart of the matter by directing his first documentary film The Identity Theft of Mitch Mustain. His inspiration to make the film came easy.
"It was something that I watched play out as a fan," Matthew said. "The way that the media spun it, there were more questions than answers.  So now that the dust has settled, seven years later, I thought it would be interesting to peel back some layers.  And to be honest, it was simply a movie I wanted to watch myself."
From the start, they faced a few challenges, namely getting Mustain on board.  "I think from what he's been through in his life, he's skeptical of everyone," Matthew said. "Mitch is the definition of an introvert.  And until you break that shell, it's painful.  The ironic part is that it comes off as arrogance."
Once Mustain signed on, their journey began in January 2012. Matthew and his co-producer Eric Evridge followed Mustain around and documented some of his career turns in the arena football league and a brief foray into baseball with the Chicago White Sox farm system. Filming progressed at a pace that couldn't be rushed by Matthew and his crew, which taught the filmmaker a valuable lesson, "not to rush the story.  Yes, you want to complete the project and screen it for your friends in a theater, but a documentary film works on its own watch."
To tell the story, they knew an authority on Razorback sports was a necessity to drive the narrative. They found such a person in legendary Razorback basketball coach Nolan Richardson.
"It was a shot in the dark, but I simply reached out to [Coach Richardson] through some contacts," he says. "Nolan got on board fairly quick, and I'd like to think it went pretty smooth.  I hoped he'd agree.  As someone who watched him coach everyone from Todd Day to Corliss [Williamson], I found myself pinching myself at times."
Matthew handled much of post-production by himself with contributions from his brother Todd and composer Lendell Black. The Identity Theft of Mitch Mustain will premiere at the Little Rock Film Festival at 8:30 PM on May 18 at The Rep.
Matthew is excited about premiering it at the Little Rock Film Festival.
"[The festival is] a great birthplace for the film," he says. "The festival has always been great to me over the years, so I'm very glad the timing worked out.  They gave me a shot with my first feature film back in 2008, so I like riding with them."
It has also been accepted into the prestigious Hot Springs Documentary Film Festival. Matthew's next project is a narrative feature entitled Gordon Winchester's Pattern of Pessimism.
Matthew learned some valuable lessons about the nature of the game while exploring Mustain's story.
He says, "Coaches don't have a shelf life.  Players do.  Coaches are not held nearly as accountable.  Yet, I also understand it's a business, and it's the very thing that drives sports."
The Identity Theft of Mitch Mustain (EP Trailer) from Incognito Mosquito Flicks on Vimeo.