Artosphere Festival Returns to Northwest Arkansas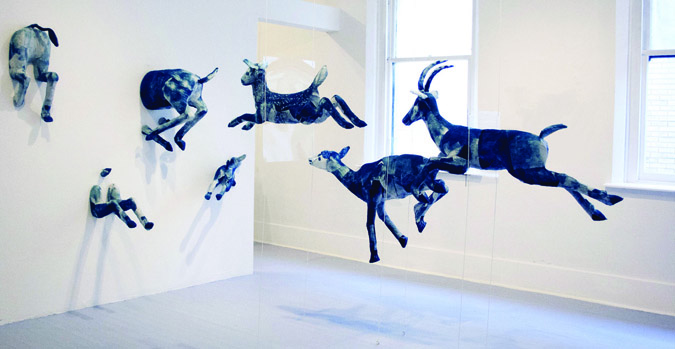 WORDS / KODY FORD
Nature and art will merge at the 4th Annual Artosphere Festival presented by Walton Arts Center. Events are taking place all across northwest Arkansas from Dickson Street to Crystal Bridges Museum of American Art to Eureka Springs. Artosphere lasts throughout May and June. Most events are free and open to the public while others remain low cost.
Artosphere's mission is to celebrate artists, influenced by nature, who inspire us to live more sustainable lives. Jodi Beznoska, VP of Communications at Walton Arts Center, says, "At its heart, Artosphere represents what makes Northwest Arkansas a great place to live and visit. The festival invites audiences to experience incredible art and reflect on our beautiful surroundings while engaging in a dialogue about sustainability."
Some of the activities planned include The Herd & Swarm by Indianapolis-based artist Tasha Lewis. It lasts from May 2 to June 28 at various outdoor events around NWA. Lewis creates sculptural installations out of cyanotype-coated fabric that focus on re-imagined taxidermy and preserving life. The Herd is a collection of emerging heads and bodies of African grazers including gazelles, impalas and springboks.  Swarm is a collection of cyanotype butterflies mounted onto magnets.
Spiral Wetland, another public art installation, is a series of floating raft-like structures planted with native wetland species that will be installed on Lake Fayetteville near the dam. Inspired by Robert Smithson's famous outdoor sculpture Spiral Jetty, Levy is creating artwork with a specific ecological goal: to improve the water quality of Lake Fayetteville. On April 28 at 3 P.M., Levy will participate in the "Artists Collaborating with Nature" part of the Great Hall Lecture Series at Crystal Bridges Museum of American Art.
One popular family-friendly event is the Trail Mix Concert Tour, which takes place on the bike trail in Fayetteville and the trails surrounding Crystal Bridges in Bentonville on May 4. In June, 80 musicians from around the world come to NWA for the acclaimed Artosphere Festival Orchestra under the baton of renowned musical director Corrado Rovaris.
A full schedule of events is available online.