An Interview with Juli Jackson, director of "45RPM"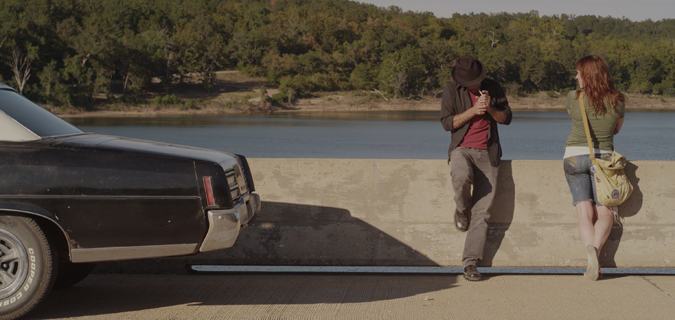 WORDS / JORDAN ASH
There are two movies that I'm very excited to see this summer – Man of Steel, and 45 RPM. We are familiar with one of these films, and some of us will soon be very familiar with the indie flick from Arkansas native Juli Jackson.
Jackson's dark comedy is about an artist named Charlie who comes to the south in search of a rare 45 recording from the 60's that was made by an old Arkansas garage band. She meets up with an obsessed record collector from Memphis who accompanies her on a road trip through the Deep South.
I had a chance to interview Juli and ask her a few questions about her journey in making this story come to life.
What inspired you to write the story?
Julie:  "After moving back from Los Angeles, I was ready to work on a film of my own. I knew I wanted to create a project here in my home state of Arkansas and I had been mulling over a road movie idea since 2008. After hearing a record collecting friend talk about small recording studios in the area that were active in the early days of rock and roll, ideas for 45RPM starting knitting together. In my research, I found Harold Ott's Lost Souls compilations, which are fantastic collections of Arkansas garage rock, and listening to that music helped me flesh out the script."
Was it all shot in Arkansas?
Julie:  "About 80 percent. We also shot in Memphis and at a really cool radio station in Kennett, Missourri. Otherwise, we crawled all over the state, shooting in little towns like Searcy, Lonoke, and Portia. Mountain Home was the furthest north we traveled. And of course, my hometown of Paragould and a lot in Little Rock too."
Was it difficult to find investors to help bring your vision to life, or did you throw any fundraisers to help support the film?
Julie:  "I was lucky to receive a grant from the Ozark Foothill FilmFest as part of their Indie Film Initiative. Having that start up money helped me bring some amazing talent to the project and get key people interested in making the film happen no matter what. The rest of the production was funded by me personally and substantial support from my family.  I would like to start an indiegogo campaign to help fund the festival run and the creation of an official soundtrack. So watch for that. We will have the best incentives!"
Did you know right at the beginning of meeting Liza Burns that she could bring Charlie Clark to life, or did you have a few meetings with her before you were convinced she was the one?
Julie:  "Finding Liza was one of those moments I have always read about but never exactly understood until it happened to me. My casting director was searching for both our leads in Los Angeles and sending me video auditions while I was casting here in Arkansas.  When I saw Liza's audition, which was one of the first I saw, my gut reaction was "That's Charlie!" But since it was one of the first auditions and we had more sessions scheduled, I thought I should wait it out. It couldn't be that easy to find a lead actress, right? But over the course of a few weeks, I kept returning to her videos and then her callbacks. She just seemed perfect – her mannerisms, her delivery, her hair, even her clothes. Finally, I decided to trust my gut and we contacted her. Believe me, I was completely ecstatic when she agreed."
 A lot of filmmakers from Arkansas have so many stories they want to tell. I have noticed that a majority of them happen to be gritty southern gothic types of stories where the characters don't have happy endings. Do you think it will be a breath of fresh air for audiences that someone from Arkansas finally made a movie that WON'T be sad and hard to watch?
Julie:  "Don't say that too loud. My next project might fall into the southern gothic genre. But yeah, 45RPM is a road trip movie that is not particularly heavy hitting or hard to watch. That's ok. I wanted to accomplish particular things with this film and it just so happened that those things didn't lend itself to that category. I think the film keeps you moving all the time with the story, the animation, the music. Overall, it is a positive film.  There is sadness there, but it is subtle. Watch Charlie & Louie carefully. Their actions and expressions tell the real story. Both are complex people who are searching for their own answers. At least what they think are their answers. We only see a small part of it. Sure, plenty of good things happen in the film. But don't be fooled, I'm not a huge fan of happy endings all the time."
45 RPM premieres at the Little Rock Film Festival on May 16th. Get your tickets, and support this Arkansas storyteller.
45RPM – Teaser Trailer from Juli Jackson on Vimeo.