GUILTY PLEASURES: Jason Paul | Heirloom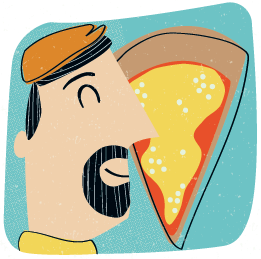 Favorite Guilty Pleasure Food? 
A legit slice of New York Style Pizza is always my go-to. Nothing can keep me away when the real thing is near. No fad diet or health trend can stop me. My favorite spot which holds a lot of nostalgia for me is Famous Ray's Pizza on 3rd Street and Bell Road in Phoenix, Arizona. It's the shop I grew up going to from about age 7, and it's still there, better than ever. Same Yankee pendants on the walls, same NYC subway maps and sports memorabilia, and most importantly the same people still making killer pies, quietly honing their craft with no one watching. I go for a Sicilian cheese slice and a classic triangle. Only cheese, that's the only topping a great slice needs. 
But also Wendy's chicken nuggets dipped into a chocolate frosty, with ketchup. I know, but don't knock it 'til you try it–at 1 a.m.
Guilty Pleasure Song?
"Into The Summer" by Incubus. It's on our most recent playlist at Heirloom at The 1907 and I just dig it. Give it a spin, but don't blame me if you like it. 
Guilty Pleasure TV show?
It's gotta be "Suits." I've watched all but the most recent season and I love it. Harvey, Donna, Lewis Litt, Mike Ross?! Classic characters. Something about that cutthroat lawyer life in NYC draws me in–and also the literal suits. If I could I'd wear a suit as much as possible because I just think they are cool. But cooking in one doesn't work well at all. Believe me, I've tried. 
And for the record, "The Americans" is my all-time favorite TV show. It's the best show ever made in my opinion. Start to finish, nail biter, edge-of-the-seat, and it actually gets you to root for "the bad guys," which isn't easy. 
Guilty Pleasure Bad Movie?
Tough one. I like lots of bad movies, but I do have a deep love for the movie "Tombstone." With a killer cast (Kurt Russell, Val Kilmer at his peak) and a slew of some the best one-liners ever, if you somehow haven't seen it, clear your schedule. You know the saying, "one man's junk is one man's treasure," well, it's fitting because while many might consider "Tombstone" a "bad movie," I think it should have won an Oscar.