Fully Composed: Amos Cochran comes into his own as a composer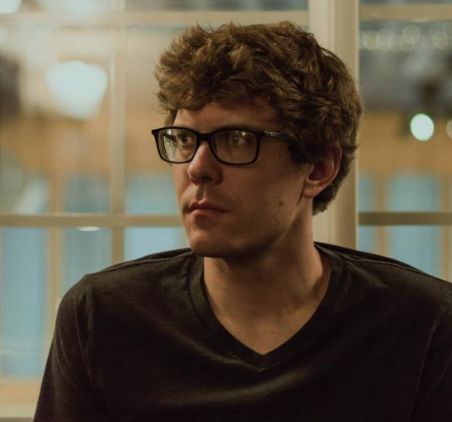 WORDS / ANDREW MCCLAIN
PHOTO / TYLER ARMSTRONG
Arkansan composer and multi-instrumentalist Amos Cochran recently released Unscored, his first full-length solo album. After years of playing in Fayetteville bands like Mountain of Venus, String Theory, and Cecil the Cat, the Arkansas native became enamored with the work of Philip Glass and the soundtrack work of Radiohead's Jonny Greenwood and stumbled into the world of original soundtracks.
Inspired, Cochran reached out to his friend Daniel Campbell, who was completing his short film "The Orderly" (2011). "He asked if I could make some music that was ''40s Jazz.'  Knowing good and well I had no idea how to make that kind of music, I told him that I absolutely could, and got to work figuring it out! That film went on to win the Little Rock Film Festival later in the year, and that led to more films, commercials, and theater pieces."
Cochran says that Unscored started out as a prospective score for a film. "Some small sketches I made while thinking about a specific film. It turned out that I would not be scoring that film, but I still had some very specific ideas and a sound I wanted to tinker with."
The result is a warm, cinematic journey full of slow-building layers of acoustic sound. It's airy, expansive, and conveys a peaceful sense of curiosity and adventure. "Most of [the tracks] would start with a improvised guitar or piano bit, I would loop those out and then add the other set of instruments around it . . . way and then one by one subtract or simplify what was being played. I had recently finished up the score for AETN's "Dream Land" with director/cinematographer Gabe Mayhan. For that score we talked a lot about music that sneaks in and out without you noticing the fact that the music slowly disappears and reappears, and never having a hard cut out with the score. I must have still been in that mindset when I started the album."
Cochran played piano, acoustic guitar, and bass on the album. The clarinet on "Sleep Boy (Don't Grow Up)" was played by Crystal Reeves, and the violin on "Unscored" by Ryan Cockerham.
Cochran has scored more than 50 Arkansan films and commercials, including "Dayveon," which was directed by Cochran's friend and frequent collaborator Amman Abbasi and premiered at Sundance in 2017 (currently available on Netflix). He also worked on AETN's Emmy-award-winning documentaries "Champion Trees" and "Dream Land," and was nominated for an Emmy for the "Dream Land" score. Cochran recently completed scores for a documentary about Mike Beebe and for "Odd Happening in a Tiny Tent," his fourth film with director Jesse Burks.
Following a recent multimedia installation in Downtown Fort Smith's Propak building, Cochran is now designing a sound installation for the Spring Arts Walk in Fort Smith, and will release a new album titled Helium Angel digitally on December 14. He will also be the featured artist for February's installment of the Trillium Salon Series, where he will perform suites from Unscored and A Modern Procedure for Breathing with accompaniment on strings.