"Men of Steel, Women of Wonder" now open at Crystal Bridges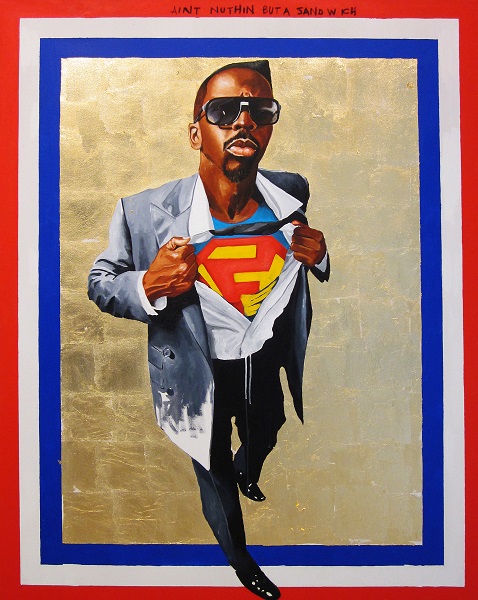 It's a bird, it's a plane… It's a star-studded exhibition at Crystal Bridges American Museum of Art, and it's sticking around through April. The museum organized Men of Steel, Women of Wonder and features approximately 70 works of art, including paintings, sculptures, performance art, video, photography, and prints created by more than 50 artists around the globe.
Alejo Benedetti, assistant curator for Crystal Bridges, curated the material, which was organized by the museum. It is the first major exhibition to analyze art-world responses to Superman and Wonder Woman, according to a press release.
"This is a dream show for me," said Alejo Benedetti. "These are characters I've loved for years, seen through the ever-watchful eyes of artists. Superman and Wonder Woman may be superheroes, but the issues they tackle are innately human — and whether heralded or critiqued, these characters are as relevant as ever. It's a project our team has worked on for years and one we're thrilled to finally share with the public."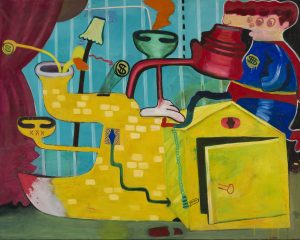 In celebration of this exhibit, the team at Crystal Bridges launched an artwork into space via a weather balloon at a public Art in Space event on Jan. 20.
"Sending art into space may seem a bit unusual, but in the context of our mission to provide access, education, and community engagement, it totally fits," said Shane Richey, creative director of experimentation and development at Crystal Bridges. "While we show hundreds of artworks in our galleries and on our grounds, this was the first time Crystal Bridges has sent an artwork away from the earth, and we were excited to share the experience and learnings with the community, both on-site and through various new media platforms."
The artwork is "Untitled male figure," a small sculpture created specifically for the event. The artist, Robert Pruitt, altered a male Dogon figure he altered with a layer of aluminum foil, antennae, and "a suitcase containing a secret package to be delivered to space," he said.
"As we all know, Superman is from another planet, but crash-landed on Earth," said Benedetti. "This seemed like a particularly fun opportunity to capture that concept, highlight an artist's work, and do something new and exciting all at the same time. Artist Robert Pruitt's work features futuristic themes, and I immediately thought of him for this project."
At the event, Pruitt, along with Houston-based artist Maurice Duhon Jr. conducted a performance art piece to commemorate the launch. A music composition, composed by JAWWAAD Taylor, accompanied the launch as the balloon lifted off, according to a press release.
The 12-foot balloon was attached to a custom built protective frame built by Amazeum Making and Tinkering Manager Joel Gordon and equipped with an MP3 unit, two GoPro cameras, and a GPS tracker, all attached to a protective rigid foam frame that protected the sculpture and electronics during the journey, according to a press release.
To recover the aircraft, Richey and Benedetti watched the GPS tracker until they noticed that the coordinates stopped moving. The aircraft traveled southeast to the Ozark National Forest, near Hector, and north of Russellville, reaching 109,000 feet at its peak and spending just under two hours in the air between its launch and landing. After a few hours of wandering through the woods, the team found it hanging safely on a tree limb. The music composition was still playing when it was retrieved, according to a press release.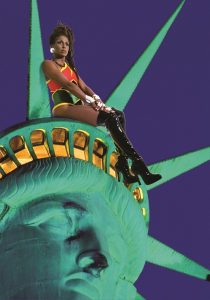 The balloon and "Untitled male figure," is on display in the Reflection Area (at the end of the Men of Steel, Women of Wonder walk-through) until the end of the exhibition on April 22.
After the exhibition debuts at Crystal Bridges, it will travel to the San Antonio Museum of Art in San Antonio, Texas, and The Addison Gallery of American Art: Phillips Academy in Andover, Massachusetts. A full-color catalog, published with the University of Arkansas Press, will accompany the exhibition and is available for purchase in the Museum Store, according to a press release.
Tickets are available here, $12 or free for members and children 18 years and younger.
Here's a list of upcoming programs inspired by Men of Steel, Women of Wonder, some featuring exhibition artists:
Art by the Glass » Comic Posters,

6:30 to 8:30 p.m. Friday, Feb. 22
Superhero Film Series » Superman (1978),

7 to 9 p.m. Thursday, Feb. 28
Film, Performance, & Discussion » Dara Birnbaum & Sarah Hill,

7-8 p.m. Friday, March 8
Studio Squad » Comic Drawing,

4 to 5:30 p.m. Saturday, March 9
Book Club » Superman: The High-Flying History of America's Most Enduring Hero by Larry Tye and Scott Brick,

1:30 to 3:30 p.m. Wednesday, March 13
Preschool Playdate » Superhero Showdown,

11:30 am to 2 p.m. Thursday, March 14
Film Series » Heart of a Dog by Laurie Anderson,  

7 to 9 p.m. Thursday, March 21
Distinguished Speaker Series » Laurie Anderson,

7-8 p.m. Friday, March 22
Superhero Film Series » Wonder Woman (2017),

7 to 9 p.m. Thursday, March 28
Adult Workshop » Mosaic Workshop with Steven Paul Judd,

1 to 5 p.m. Sunday, April 7
Spotlight Talk » Comic Writer Paul Dini,

7 to 8 p.m. Thursday, April 11
Homeschool Tour and Art » Comic Art,

1-3 p.m. Wednesday, April 17
Art Night Out » Men of Steel, Women of Wonder,

6-11 p.m. Friday, April 19