First Green Heart Festival a joint effort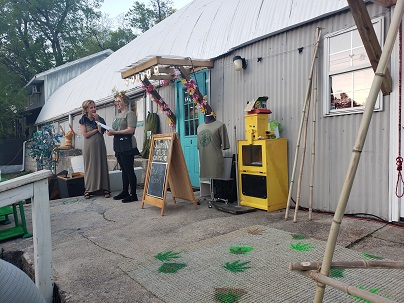 Old myths tell the story of a group of high school friends meeting at 4:20 p.m. every day to enlighten their minds with a little cannabis instead of attending gym class. The smoker's holiday," endearingly called "4/20" in honor of that tale, pops up every April 20. But in Fayetteville, April 20 will be even more inclusive after this year, thanks to The Green Heart Festival.
The festival, which incorporated the community through art, music, and natural medicinal awareness, took place last Saturday at Trailside Village where Center and Gregg streets meet. Local artist, activist, and radio show host Wendy Love Edge partnered with Trisha Guting of Out of Hand Artist Collective to plan a celebration of art, music, plant medicine, and wellness.
Local vendors joined the festivities, tabling around the area with free energy-renewing hugs, CBD, kava and hemp products, handmade jewelry and woodwork, and awareness for natural medicine. "We only produced half a barrel of trash. All the rest was composted or repurposed," Wendy Love Edge wrote in a Facebook post.
The musical lineup throughout the evening included Randall Shreve, Jesse Dean, Isayah Warford and Richard Burnett, Angela Edge, Moonsong, Witchsister, Cameron Johnson and Samantha Hunt. 
Olivia Morgan, a citizen of the Choctaw Nation of Oklahoma, opened the event with a land statement to acknowledge the original tribes of the area. In addition to Morgan, city councilman Mark Kinion took the stage between various speakers who encouraged the audience to change the stigma of cannabis for medicinal purposes. Festival-goers were even put in the spotlight on the "Green Carpet" with photos taken by Kat Wilson.
The community joined together to create a well-oiled machine of a first-year festival, and because of the community support and encouragement behind the event, Mayor Lioneld Jordan deemed April 20 "Green Heart Day" in Fayetteville.