Q&A: Kat Wilson inspires community to sit on the #SelfieThrone in new sessions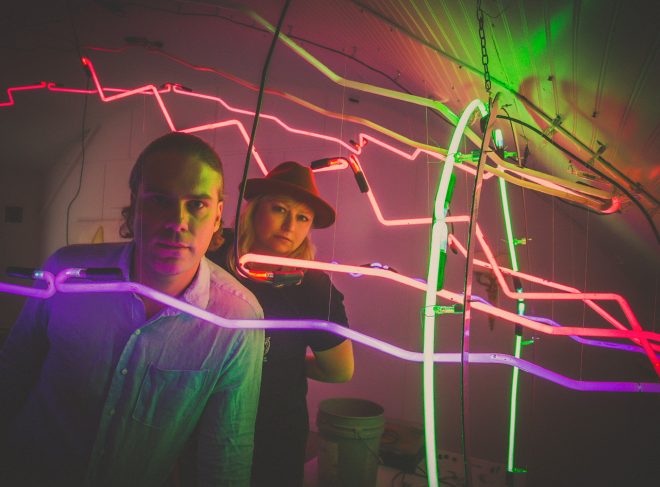 If downtown Fayetteville's First Thursdays weren't already exciting enough, even more magic is coming to the first Thursday of every month at Trailside Village in Fayetteville. Starting May 2, MFA Galleries and local artist Kat Wilson will present a new #SelfieThrone collaborative project with Springdale-based neon sign artist Brian Bailey. The interactive series is the first of its kind and was inspired Wilson's renowned "Habitat" series, in which she places people among their possessions–they become the art. Crystal Bridges Museum of American Art recently featured two of Wilson's pieces in the "Personal Space" exhibition. 
The new series reuses living and dead people's belongings from selected regions, and a fictional narrative is created based on locations and articles collected from estate sales. The objects are then dissected, redefined, and rectified decisively exploding from their prospective vessels or walls. The reassemblages are crafted with careful discrimination based on indiscriminate issues. Sometimes #SelfieThrones can be lighthearted and made just for the fun of interaction, according to a press release.
After the first throne with Bailey, the second will include living people positioned around the centerpiece, which will be reminiscent of Hubert and Jan van Eyck, Ghent Altarpiece, completed 1432. The third throne will be a collaboration with Indianapolis-based narrative artist Rory-Ann Austin, where they will create a soft sculpture #SelfieThrone with mermaids and a hugging squid. The fourth is a secret that only attendees will uncover.
With all of this lined up over the next few months, we talked with Kat about her upcoming #SelfieThrone studio sessions and what's next for her.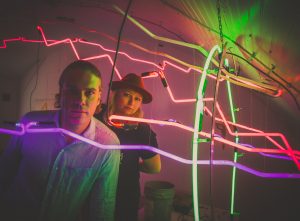 IC: Tell us about the studio sessions. Where did the idea come from? What should attendees expect?
KW: Inspired by the fact that there's so much talk about building the arts corridor and artists studios, but here we are sitting right in the middle. Every one of us, real, living, working, hustling, artists already existing in the proposed arts corridor. So how did it happen that so many motivated community-minded artists landed at Trailside? The answer is that it's always been this way. The owner Denele Campbell has provided spaces with cheap rent for entrepreneurs since the '90s. Many of your favorite bands, theater troops, and artists all began right here the Huts. All of us at the huts are hustlers and do whatever we can to sustain our art practice. We are community builders, and we are already here providing topnotch art and experiences.
I asked Dacre Whitaker at Experience Fayetteville to meet with us (the artists) at the huts. Dacre gave us a lot of great tips and suggested we consider opening up our studios on First Thursdays as an after-party. Boom! It was born. Except we're going to open at 6 p.m.  Trisha Guting proposed we each make more of an experience in our studios and around Trailside Villiage, similar to Meow Wolf in Santa Fe or Factory Obscura in OKC. However, we are each, independent artists paying our rent, supporting ourselves so in each artist space, we can do whatever we want or don't want.
How much do they cost? If they don't cost anything, what motivated that decision?
Open Studios on First Thursdays at Trailside Village is whatever each artist wants to create in their space. Some may sell swag and others may charge for an experience but no matter what it will feel raw and authentic.
Are your open studios officially a part of First Thursday events downtown?
It just depends on who wants to include us in the conversation. Here we are, working artists in the ARTS CORRIDOR!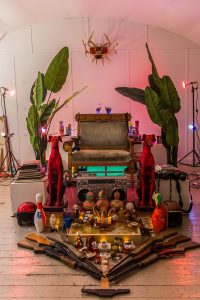 When's your next exhibition or art event? 
Inspired by Trisha's proposal of an art experience, I've chosen to make a new #SelfieThrone each month for the first three months, and I will sell my art including Emoji Paintings, Habitats, and Layers. Also, I'll drop my new collaboration with ChubbyJunk.com apparel which will include my Emoji paintings on shirts and bags.  In the fall, I am programming different top-notch artists to take over the main room in my studio, MFA Gallery. I will host renowned artists like photographer Maxine Payne (head of the art department at Hendrix College) painter Don Lee (former head of the art department at UAFS) painter Peter Cullum (professor at UAFS).
I have a few more things up my sleeve I can't announce just yet. As always drinks in my studio will be provided by the flavor saviors Pink House Alchemy who always bring the sugar to the people.
When you're not creating magic in your studio in the Trailside Village, where can we find you?
I leave this week for my show and talk in Fort Lauderdale, Florida. Fort Lauderdale is a collector's market, and I already have some pending sales. I'm sad to separate Habitats. I had always wished an Arkansas institution would purchase the whole collection.
If you were a beverage, what would you be and why?
This is an important question for me. When my wife and I had the magical beast called Foxhole Public House in Bentonville, I would ask Wifey to make a special drink for each featured exhibit that Crystal Bridges hosted. The drink that resonated most with me was created for the Open Road photography exhibition. An American working-class drink often brought as lunch for many workers in the late '60s- I am Dickel Whisky served with a bottle of Coca-Cola, and a bag of peanuts. "Water's for washin', Dickel's is for drinkin'."
How can we keep up with you?
It's possible that you might see me on TV hosting a new show. We'll see how that pans out. Until then, everyone can find me on Instagram at @katwilsonartist, and I update my website regularly at katwilsonartist.com
Anything else we should know?
I am currently seeking funding for an amazing public art piece that can be seen 18 miles away by land or air. Awestruck by the unexplainable light phenomena of Marfa Lights in Marfa, Texas, I plan to create a similar experience here in the Ozark hills.
This public art piece is a call-to-action, an interactive blessing of Mother Earth, that is centralized around social experience, and global reach to stimulate a culture of curiosity and marveling within the Ozarks.  It will consist of three parts: parabolic reflector light (searchlights) installations with Arkansas quartz crystal over the lenses will be positioned at key cardinal direction corners, communication and interpretation through a light language (Morse code) beamed from the lights, and various viewing platforms. The viewing vantages would be aerial, (unique to the accessibility of our area and the Thaden field project), from the ground, and from an application that follows the changing light show and its messages. This nightly sky event will provoke viewers of many interests. For those that connect to the natural world, they could find a high vantage point to enjoy these connective light beams as if they were gazing at a meteor shower. An aviator can pass by the light show and feel as though they are part of the piece.  The application that follows the changing light show and its messages can be viewed from the comfort of your phone. There's nothing that makes you feel more grounded on earth than something that makes you feel otherworldly.
Wilson will be offering art from her various series, "Habitats," "Emoji Paintings," and "Layers" for purchase each First Thursday. 
T
he #SelfieThrone kickoff event will take place from 6 to 11 p.m. May 2 at MFA Gallery at 546 West Center, Unit F, Fayetteville AR. 72701. Drinks will be provided by Pink House Alchemy.
Find Kat Wilson on Instagram @katwilsonartist and see her example animation here.