Fenix and Friends at Walker-Stone: Art, Literature, Performance in April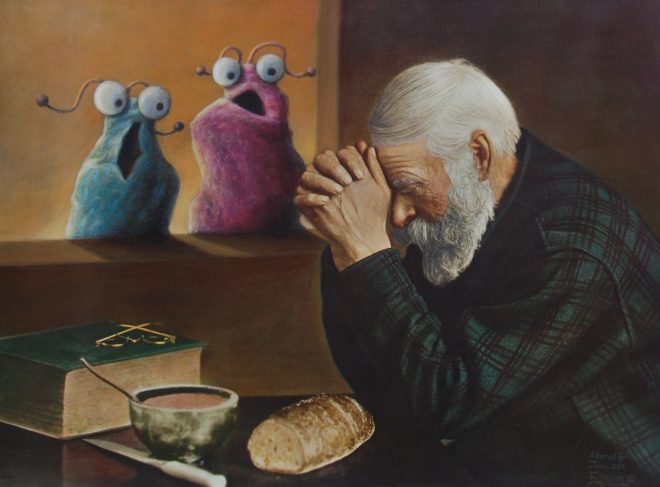 Members of the artist group Fenix Fayetteville are organizing a three-week art exhibition and event series at the historic Walker-Stone House in downtown Fayetteville. The show opens Saturday, April 8, and runs through Saturday, April 29. This is the first arts event held in the two-story brick building, located at 207 West Center, since the Fayetteville A&P Commission purchased it last year. Fenix is taking over the entire first floor to showcase work by 26 Arkansas artists.
Works include paintings and drawings, photography, sculpture, ceramics, installations, and mixed-media pieces. Art is exhibited on the walls, above the fireplaces, and in the built-in bookcases of the stately home built by lawyer and state legislator David Walker in 1847.
Many participating artists are affiliated with Fenix; others are friends of the group. Ceramic artist Winston Taylor, recipient of the Arkansas Living Treasure Award in 2011, is in the show, as is painter Robert Ross. Fayetteville painter Megan Chapman, who now lives in Scotland, also has pieces in the exhibition. Other local and regional guests include Jason Jones, who painted the popular downtown murals Shop Local and Enjoy Local; Karla Walden Caraway, Annie Edmonson, Amber Eggleton, Kristoffer Johnson, Matt Miller, Basil Seymour-Davies, LaDawna Whiteside, and Marianne Wilson.
In addition to the exhibition, Fenix artists will offer plein-air painting sessions and drop-in art-making workshops on Saturdays. Thursday, Friday, and Saturday night events include live painting, readings, and music. Performance poet Houston Hughes and the Jazz Misfits are teaming up for a poetry and jazz performance on Saturday, April 22. (The complete event schedule will be released as soon as it is final.)
Fenix and Experience Fayetteville will host the opening reception on Saturday, April 8, from 10 am to 4 pm. Fayetteville icon and former Walker-Stone co-owner Hugh Kincaid will talk about the building's eventful history. There will be live music by Clarke Buehling. An evening closing reception will take place on Friday, April 28.
Participating Artists:
Dave Bachman, Brandon Bullette, Karla Walden Caraway, Megan Chapman, Mary Collins, Annie Edmonson, Amber Eggleton, William Mayes Flanagan, Laurie Foster, Kristoffer Johnson, Jason Jones, Hank Kaminsky, JoAnn Kaminsky, MM Kent, Kirk Lanier, Octavio Logo, Judy Maurer, Matt Miller, Doug Randall, Robert Ross, Sabine Schmidt, Steven Schneider, Basil Seymour-Davies, Winston Taylor, LaDawna Whiteside, and Marianne Wilson.
About Fenix:
In October 2016, two dozen emerging and established artists in Northwest Arkansas founded the art group Fenix Fayetteville. The group's debut event was a ten-day art sale in downtown Fayetteville in December 2016. Fenix artists come from various parts of Arkansas, the US, Mexico, and Germany. All now call Northwest Arkansas home, and many are active in the local and regional arts community. The collective is holding pop-up shows and events in temporary locations and is looking for a long-term space in Fayetteville to house artist studios, a gallery, and workshop facilities.
Exhibition Info:
Fenix and Friends at Walker-Stone
207 W. Center, Fayetteville, AR 72701
April 8-29, 2017
Thursdays and Fridays 12-8
Saturdays 10-4
Sunday, April 9 12-4