Inaugural Community Supported Art Show at The Fayetteville Undergound
WORDS/ CHELSIE MARTIN
From the hand painted utility boxes and storm drains to the detailed murals that grace the sides of local buildings, there is no denying the creativity alive in Northwest Arkansas. Fayetteville will continue to celebrate creatives with the 18 local artist displaying their work at the first Community Supported Art show. Located at the Fayetteville Underground, Community Supported Art show will hold two receptions over June 19 and 20.
Elizabeth Sharp, event organizer of Fayetteville's Community Supported Art, first heard about the concept when visiting St. Louis.
"At the time I loved the idea of subscriptions to artists, mostly because it creates an outlet for distributing and selling work without hosting shows constantly," Sharp said."When Samantha Sigmon, of the Fayetteville Underground, expressed interest in the CSA, it gave me a more  structured and public opportunity to implement the idea."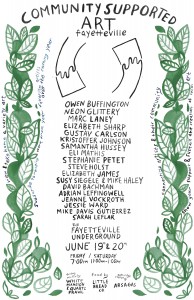 While each of the pieces will be for sale at the event, guests are encouraged to participate by purchasing subscriptions to artists' work. These subscriptions will allow guests to receive art directly from the artist of their choice over the year. Sharp hopes the subscriptions will connect the artist with the strength of the creative community seen in fayetteville.
"Many artists don't feel they can pursue art as an option for financial stability," said Sharp. "Our artistic and cultural projects lean more towards labors of love…I think this project will bring awareness to this issue and encourage Fayetteville's community to become more invested in sustaining local art."
The opening of the event will be on Friday evening, June 19, from 7 to 10 pm. Food will be provided by Little Bread Company, while drinks, and live music from White Mansion and Quartz Prawl. The second reception will be the following afternoon on Saturday June 20 from 11am to 1 pm during the Fayetteville Farmers Market. Sponsored by Artosphere Art and Nature Festival, the second reception will feature a pop-up concert with musicians Rani Arbo & Daisy Mayhem.
For more information on Fayetteville's Community Supported Art and the artists participating please visit http://new.fayettevilleunderground.com/