Backspace Bazaar set to benefit Food Not Bombs NWA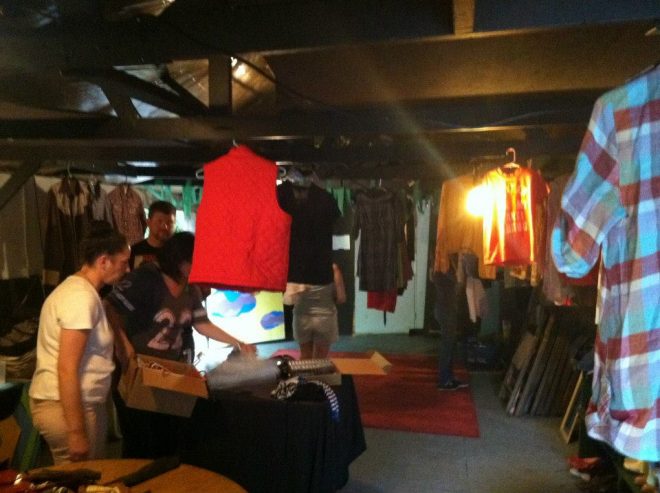 Backspace, located at 541 W. Meadow, unit H, Fayetteville, AR, will be hosting an early fall clothing swap, stuff swap, art sale, Food Not Bombs community serving and potluck, and music show all 
on Sept. 30 from 2 p.m. to 12 a.m.
 Art proceeds go directly to the artists, event donations (suggested $5) goes to Food Not Bombs NWA, and any leftover clothes or items will go to shelters. We're also announcing our first in our pop-up art sale series, Untitled #11(Art Sale)!
2-7 p.m.:
CLOTHING & STUFF SWAP
Bring things you are no longer using that others might want. Come try on clothes or get things others dropped off. It's a swap! and everything inside of Backspace is free to take and leave as you please!
If you'd like to drop off clothes or stuff we'll be there by 
11am
 to set up, or you can bring stuff to swap as you come by after. Please no large furniture or items;
 we do not want to haul heavy/big items off for you. Men's/women's/children's/ any and all between all welcome and we'll have a changing closet space if you need to try on anything.

ART SALE
Artists will have tables so come buy from them in our first installment of the pop up art series, Untitled #11, (Art Sale)! Artists represented include:
Gustav Carlson
Brenna Collins
Amber Eggleton
Olivia Fredricks
Mikayla Hoffman
Kat Macrunnel
Helen Maringer
Stephanie Petet
Danielle Pugel
Elizabeth Sharp
J.N. Ward
Tiffany Willis
7-9 p.m.:
DINNER & POTLUCK!
Come meet Food Not Bombs NWA representatives to learn about their organization and the good things they do for the community. Donations will be accepted and food/community hang out will be provided! Bring a dish too to share!
9pm (ish):
LOCAL MUSICIANS & BANDS
WITCHSISTER
John Charles
Molasses Disaster
Willi Carlisle
$5 Suggested donations, must be 21+ to drink. IDs checked at the door.