GLITTERCORE brings Little Rock veterans together for new album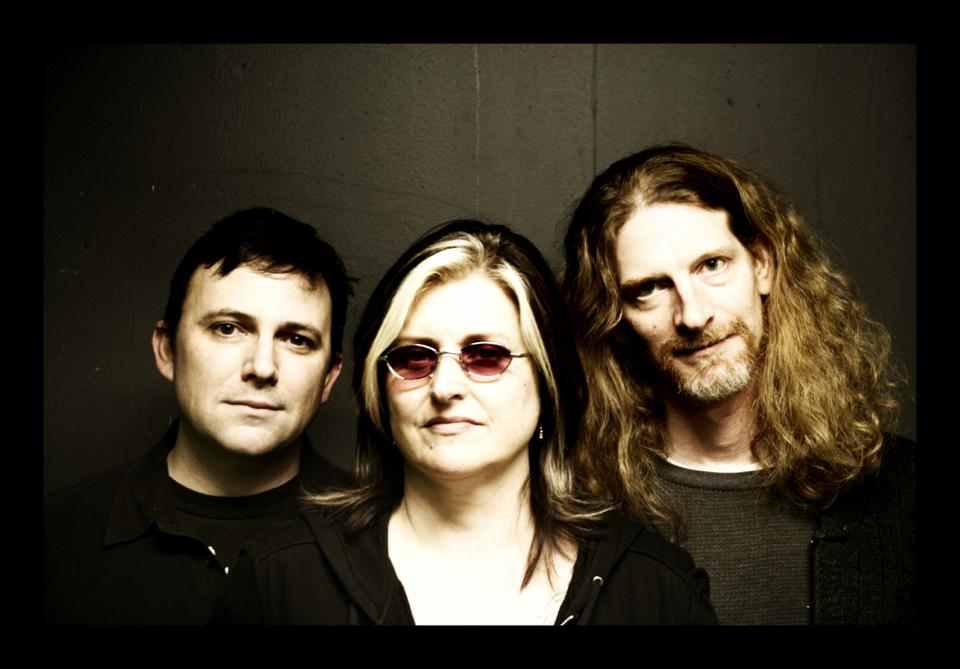 By Kody Ford
Rock 'n' roll never dies.  It just got a day job.  That's the case for three Little Rock music scene veterans, Shayne Gray, KV and Paul B, who recently released the self-titled debut album for their new band Glittercore.
All of the band members came of age in the 1990s finding success around Little Rock and across the country. While they have sense settled down, started families and found started careers, their love of music never waned. Now they have channeled that into their new band. The trio's distortion heavy sound combines a few decades of rock music. Their harmonies are reminiscent of The Pixies while the over all sound is raw, but polished enough to display professionalism. Listening to the album, you get a quick feeling for their live show.
"I don't know really how to define our 'sound' because I can't really listen to this stuff objectively," Paul said. "I can tell you that the stuff on the record is different than I originally envisioned it and that's a good thing because this is a band of individuals and everyone has a voice…I feel good about a song if Shayne and KV want to take the time to actually learn it but that's really my only gauge."
Paul finds himself influenced by bands with a similar musical make up of three piece trios who focus on harmonies, particularly Band of Skulls.  The song "Lazarus" demonstrate that the guys can still get down with some good old fashion 90s angst. On "Curl High" their harmonizing invokes the Duluth, MN, band Low backed by a wall of guitar that would put a smile on Tony Iommi's face.
The roots of Glittercore can be traced back the Little Rock music scene of the 1990s, made famous in the documentary Towncraft. Paul B had made a name for himself both in town and on the road playing for the band TRUSTY and il libertina. Shayne came of age playing drums for Techno-Squid Eats Parliament. Shayne reached out to Paul after seeing him Towncraft. A year later at the urging of fellow musicians and friends, Shayne began playing in bands. He sat in on drums for KV's band Nos Rebos and they decided to team up.
"Well, really, we're just three middle-aged rockers that saw a little success outside of Little Rock 15 or 20 years ago," Paul said. "We still have a bunch of equipment, a little talent and like to bang out rock tunes because it's part of who we are and I, personally, can't stop. It's therapeutic for me."
The name GLITTERCORE came about after Paul and Shayne decided to form a glam/punk rock band that would wear make up and extravagant dress while playing an eclectic mix of cover tunes.
Paul said, "We did this for awhile but, truth be told, it became tiresome for me and I was exerting way too much effort on our look and not enough on our tunes. Not long after this realization we became a three piece and KV came into the mix…with a sobering 'WTF with the costumes and covers?' attitude. In my opinion, that is when we became a more honest "band" taking the emphasis off the visual, trimming away all the extraneous cover tunes and re-inventing ourselves as something of more substance rather than pretense. However, I still like to play dress up because it's fun and I think it helps create something more like an 'event.'"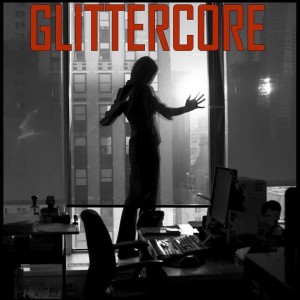 According to Shayne, GLITTERCORE recorded the main tracks with Jason Tedford at Wolfman Studios in Little Rock in 2012 with bass and drum tracks taking about a day to lay down. Most vocals and some extra touches were done in Paul's home studio.  Paul handled guitar duties while KV played bass with Shayne on the drums. Vocals were shared by all three.  Mixing & production were done by Jason & Paul. NYC based artist Amy Skinner handled the cover art. Panic Studios in Seattle, WA, mastered the album, which can be downloaded for free here.
Their plans for 2013 include playing a show in Little Rock every couple of months while picking up the occasional gig within a 200 mile radius. They will perform on Saturday, February 23 at J.R.'s Lightbulb Club in Fayetteville with Family History and The See at 9 P.M. Cover is $5. On Tues., April 16, GLITTERCORE will play at White Water Tavern in Little Rock with Clay Bell & friends, of San Francisco , CA, & Laundry for the Apocalypse  at 9 P.M. Bands will take donations at the door.
For more information, visit their website, Facebook, or ReverbNation page.