Elijah Mathis sees the world from a different perspective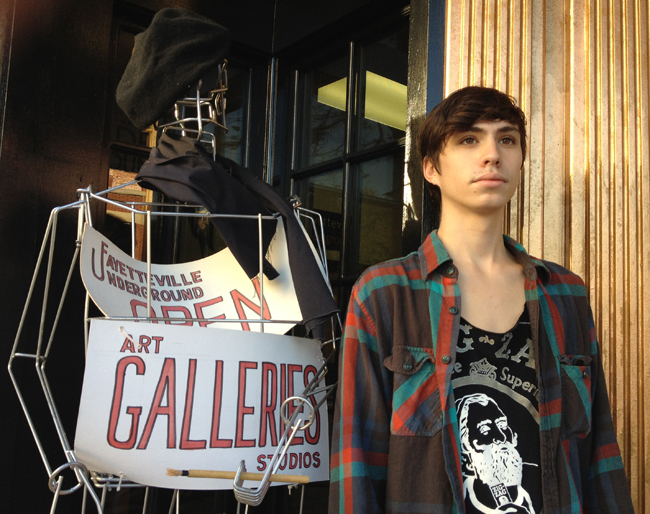 By Kody Ford
Editor
Elijah Mathis sees things a little differently from other artists. Having obsessed over comics since he was a child, the 19 year-old has developed a style that pulls from comics like Rat Fink and American Splendor.
"I've always been kind of copying comic books since I was a kid," said Elijah. "My dad would take me out to get art supplies to work with so it sort of grew on me."
Elijah cited his father's comic book collection of Spider-man and X-men titles along with Pokemon and Spawn as shaping his early style.  Eventually, he discovered Ed Roth (of Rat Fink fame) and his style took a dramatic turn.
"He did different characters and monster-like creatures," Elijah said. "His style stood out to me.  He was different from most artists I would see."
Having discovered a new direction, Elijah wasted no time formulating a new style for himself.
"Throughout junior high and high school, I went through notebooks and notebooks," he said. "Finally, I got a couple of characters out of my head and it grew from there. I try to base [the characters] off of animal-like creatures but put my own twist on them.  Right now, I'm working on a series of taxidermy creatures.  I want to have at least half a dozen."
Born and raised in Fayetteville, Elijah always loved drawing and creating really. His father was interested in the arts and often took him to the monthly First Thursday celebration in downtown, which introduced him to the vibrant art scene in the community, particularly through the Fayetteville Underground.
"My dad was really supportive of me getting into drawing and taking art classes in school," Elijah said.  "He took me to shows at the Fayetteville Underground.  I admired everyone who showed there."
The spark of inspiration quickly ignited and Elijah found himself skipping lunch at Fayetteville High School to go to the art room to work on projects.  After compiling a respectable portfolio, he submitted to the Fayetteville Underground and was accepted in July 2011.
At that point, the Fayetteville Underground didn't have an extra studio so he was used a corner of the figure-drawing classroom.  After another artist left, Elijah got his first studio space.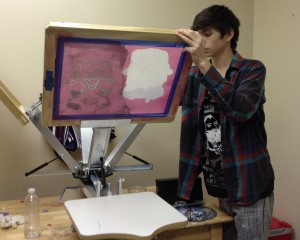 During his junior year of high school, he discovered one of the art teacher's screenprinting band t-shirts.  The next year, Elijah enrolled in the teacher's class and learned how to screenprint. He decided to put some of his characters on shirts.  He scourged secondhand stores for old tees suitable for screenprinting.  He worked in a friend's studio in the fall of 2011.  Soon, he recruited another friend to help him sell them.
During lunch break at FHS, they would pop the trunk on his friend's BMW, hang shirts from the back, and play music to attract potential customers.  It began to work.  Soon, he found other locations for his wares—Sound Warehouse and Mayapple in downtown Fayetteville.
For graduation, Elijah received a screenprinting machine and supplies from his father.  He hopes to one day own his own store.  In the meantime, he's enjoying a year off from school before settling upon an art school.  He is considering schools in Santa Fe, Kansas City, and Savannah among other places.
While he enjoys monetizing his work, his true thrill lies in the act of creation.
"The part of art that I love is using it as an escape from real world," he said. "It's kind of a comfort thing.  I've always been interested in it.  Art is in everyone's life but they don't realize it as much as other people."
(Click on a photo below to launch gallery.)
[AFG_gallery id='17']