Don't Stop Please embark on Donner Pass Explorer Tour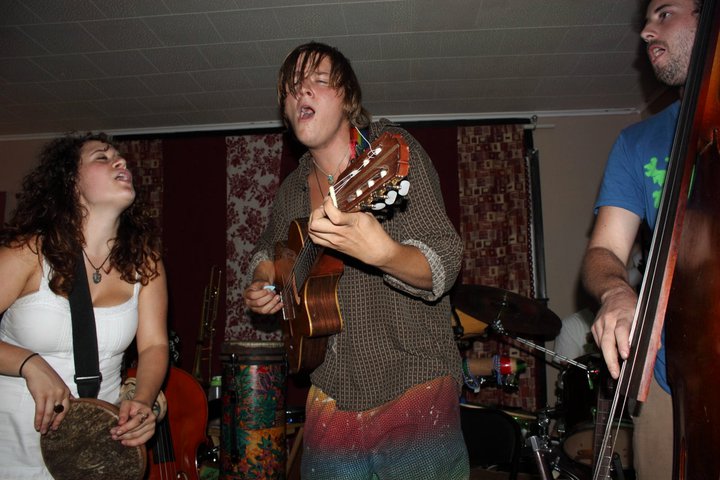 By Taylor Gladwin
When Don't Stop Please decided on a name for their 6-piece experimental rock band, perhaps they had multiple reasons for picking a name that can be construed into so many different meanings. Fans shout out "don't stop please!" at the beginning and end of their shows, and throughout the entire body of the performance for that matter. Don't Stop Please will be making fans across the country yell out when they leave on Sunday, March 10th for their first national tour.
The musicians have dubbed the tour The Donner Pass Explorer Tour. The title is another example of their interesting name choices, based on "humor and practicality, and our demeanor," Krzeszinski said, sarcastically.
The band is making their way to Boise, Idaho for Treefort Music Festival. Treefort Music Fest is a four-day indie music festival that's playing a helping hand in putting Boise on the map for music culture. This is only the festival's second year in existence. Don't Stop Please will be performing at the English pub, Tom Grainey's on Friday, March 22nd.
"I'm excited about bringing Arkansas vibes to folks that are from other places," Ludford said. "We're unique to our environment. We're definitely an Arkansas band and we get to bring that to a new place."
Anna Horton, Robert Gaiser, William Krzeszinski, Joel Ludford, Will King, and Nick Caffrey, of DSP, will hit the road on Sunday and drive to Tulsa, Oklahoma for the first official show of the tour. The band has spent the past two months planning The Donner Pass Explorer Tour and is putting their multidimensional name "Don't Stop Please" to the test with sixteen shows in twenty days. Don't Stop Please went on two regional tours in 2012, the first one in Kansas. After getting a little experience under their belt, the band went on tour again in July, playing shows in Kansas again, and adding Oklahoma and Missouri.
"This tour's the longest, about three weeks and 4,000 miles. That's a big deal. We've never toured that long before," Horton said.
King added, "We've grown a lot more as a group. We've tuned in on our sound. There's less fear of 'what are we doing?' Confidence in the music and the way we perform backs up the whole experience. The mindset isn't 'this is work' it's 'this is a trip."
That kind of thinking creates a mindset that allows them to grow through work while enjoying work at the same time. In other developing news, Don't Stop Please will be releasing their third studio album in the fall. This is the third album the Pleasers have put out, but it's their debut LP (long play) album with a thought-out concept. What exactly that concept is, we will have to wait and see, or, follow them on tour.
"This tour will give people a sneak peak of what will be on the next album," Ludford said.
TOUR DATES:
Fri 3/29 – Fort Smith, AR @ Webby D's
Mon 4/1 Conway, AR @ King's Piano Bar
*Tree Fort Music Festival