Dollarway High School students engage in art-inspired literacy program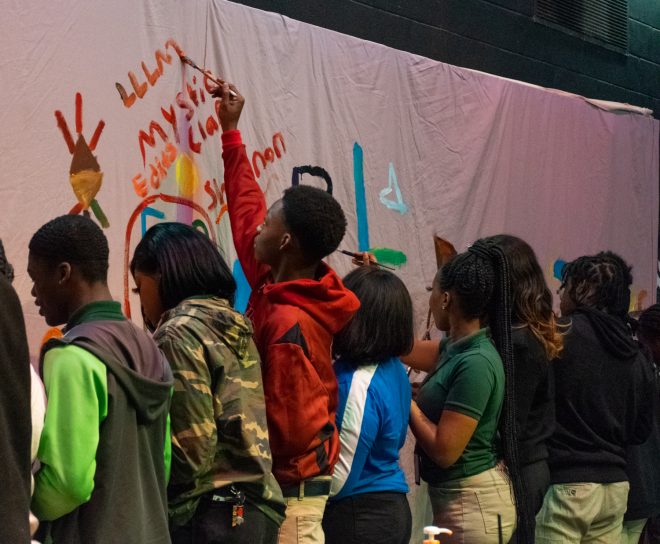 The Arts & Science Center for Southeast Arkansas (ASC) are enriching Dollarway High School students' learning experience with lessons and activities inspired by ASC exhibitions.
In a partnership with ASC, teaching artist April Gentry-Sutterfield has developed hands-on, interactive, arts-integrated, in-school literacy programming with the high school. The project is school-wide for ninth through 12th grades. The partnership began in spring 2019 and is supported by a National Endowment of the Arts grant.
Gentry-Sutterfield, in collaboration with ASC staff, uses current art exhibitions at ASC as a jumping-off point for the lessons and activities. She wants the Dollarway students to have enjoyed literacy more because of how the lessons connected it to visual art and drama. She also wants them to see additional possibilities for themselves.
"I believe the arts can uncover possibilities for people they never knew existed," Gentry-Sutterfield said. "Whether it's discovering the healing power of expressing themselves or realizing the freedom in an artistic process or any of a whole litany of social and emotional learning goals, I truly believe that the arts are transformative."
Each session consisted of a full-day professional development workshop at ASC for Dollarway High's English teachers, followed by three days of Gentry-Sutterfield modeling the drama-based instructional strategies in the classroom. In the spring 2020 semester, she spent one week at the high school in January and another in February, according to a press release.
As a follow-up to the workshops, ASC provides a community engagement component by designing a field trip program tying artwork from ASC's Permanent Collection to the themes explored in the students' reading assignments.
More than 200 Dollarway ninth- through 12th-graders visited ASC for the latest field trips on March 3 and March 5. Gentry-Sutterfield and ASC staff led the students through hands-on, exploratory art activities based on ASC's current art exhibitions — "Whimsy & Flights of Fancy," "Reunion" and "From the Vault." Time was also allotted for collaborative activities including painting a large canvas backdrop, drawing a chalk mural and using art as a prompt for games.
Executive Director Dr. Rachel Miller wants to focus on positioning ASC as not just an art museum, but also an institution that collaborates with nearby schools with innovative ways to engage students and help to improve literacy and numeracy scores.
"If we're able to engage the students in a way that is interactive, that engages a different part of the brain, that shakes things up, then we're more likely to be able to see a result because it's something completely new and it changes the environment," she said.
Gentry-Sutterfield has more than 20 years of experience as an educator. She is a teaching artist for all grade levels from kindergarten through high school, and is on the Arkansas Arts Council's Arts in Education Artist Roster. She has also worked as a public middle-school and a high school drama teacher, a college instructor of introductory theater classes. She has a Master of Fine Arts degree in drama and theater for youth and communities from the University of Texas at Austin, and a Bachelor of Arts degree in theater arts from Hendrix College in Conway.
The Arts & Science Center for Southeast Arkansas, 701 S. Main St. Pine Bluff, is accredited with the American Alliance of Museums (AAM). ASC presents programming in the visual arts, performing arts, and the sciences through exhibits, performances, classes and local partnerships. Gallery admission is free. ASC is open Tuesday–Friday, 10 a.m.–5 p.m., and Saturday, 10 a.m.–4 p.m.