Studio 300 to exhibit artwork from two local emerging artists to celebrate Women's History Month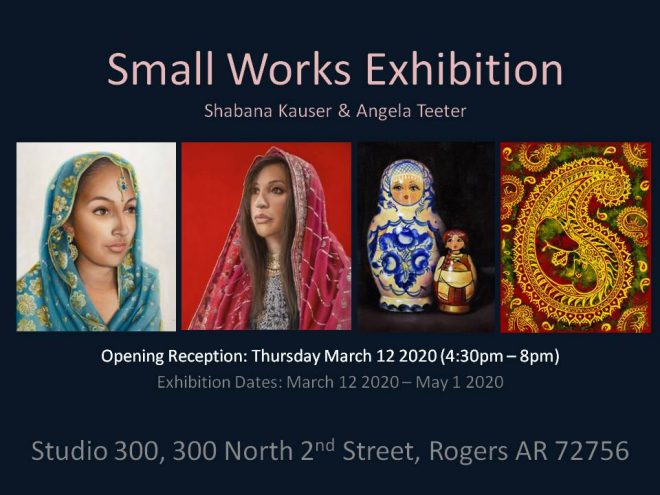 During the month of March, celebrated as Women's History Month, the contributions of women are highlighted and recognized. Worldwide, individuals, businesses and non-profit organizations recognize the achievements of women throughout history. A gallery in Rogers is exhibiting a collection of recent work by two women artists who met three years ago after being selected to exhibit in a two-woman show in the same area.
Studio 300 is exhibiting the art of Shabana Kauser and Angela Teeter from March 12 to May 1. The Small Works exhibit is a collection of recent work by these emerging artists who are rapidly receive recognition in Northwest Arkansas.
When asked what it is like to be a woman artist in Northwest Arkansas, Fayetteville-based artist Shabana Kauser explained the percentage of female artists that succeed financially in the art world, or even get noticed, has historically been low. The shift is changing, with many inspirational female artists now in top-tier galleries and museums. Three years into her art career, she is pleased to have the opportunity to help change those statistics and eventually inspire others from a variety of ethnic backgrounds, especially children who are often looking for someone who looks similar to them as inspiration, according to a press release.
Kauser is most readily recognized for her portraits of women. "People inspire me. I never imaged connecting with the community through my culture and work," Kauser says. "With my journey to Arkansas and the U.S., I felt disconnected for years, and it's only until I introduced my art, that things drastically changed. When I launched my series that focuses on South Asian Immigrant Women, I was amazed at the interest from the community."
Her work, most readily recognized for her portraits of women, portrays many of the strengths that immigrants have when they move to a new land. Each portrait represents strength, courage, adaptability and optimism.
"The community has been able to appreciate and relate to the stories in their own way," she says. "I couldn't ask for a better response to my work."
A resident of Rogers and Arkansas native, Angela Teeter has been an aspiring full-time artist for the last few years as circumstances have allowed her to do so.
"I had dreamt of being a full-time professional artist since I was a child, and I first began to take the promotion of my work seriously in high school," Teeter says. Upon first meeting her, Teeter comes across as reserved and when she speaks, she is deliberate. Her art, however, is anything but reserved. "When I wish to convey an idea or message, I incorporate basic principles of design. To me, design offers a visual deliberacy of sorts. I use elements of design for the structure, then my work evolves as metaphorical and narrative." 

One of the aspects of exhibiting at Studio 300 that inspires both artists is that a percentage of each sale is donated to Benton County Meals on Wheels. Studio 300 offers local artists a place to exhibit, create and teach and a percentage of all profits support this organization that helps to feed the sick, disabled or elderly within our community, according to a press release.
To learn more about both of the artists , check out their websites – www.shabanakauserart.com and www.aeaststudios.com/
Studio 300 is located at 300 N 2nd Street, Rogers, AR.