Crystal Bridges Museum of American Art reopens, announces aesthetic changes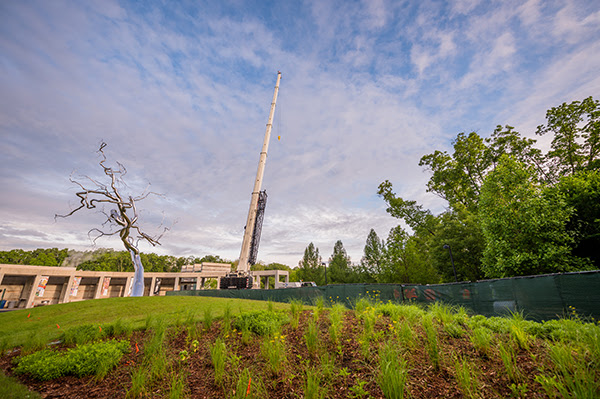 After reopening its doors to the art-loving public on June 10, Crystal Bridges Museum of American Art recently announced artwork relocations and updates to encourage a fresh look at the museum grounds after months of being closed due to coronavirus.
In preparation for a lobby expansion into the museum courtyard, Maman, the 30-foot spider sculpture by artist Louise Bourgeois has moved from the courtyard to the South Lawn where Luis Alfonso Jimenez's Vaquero used to be. Vaquero has moved from the South Lawn for conservation and will be on view again in a new location soon, according to a press release. The completion goal for the project is February 2021.
The courtyard area is planned to be enclosed in a glass dome, expanding the lobby from its current location all the way to the Museum Store. These updates will allow for more lobby space, weather protection, expanded programming opportunities, and a more convenient and comfortable visitor experience. The redesign and expansion is not expected to interrupt or negatively affect visitors' experiences.
State of the Art 2020 will be extended with the full exhibition on view at both Crystal Bridges and the Momentary through July 12.