Crystal Bridges helps those in need during time of isolation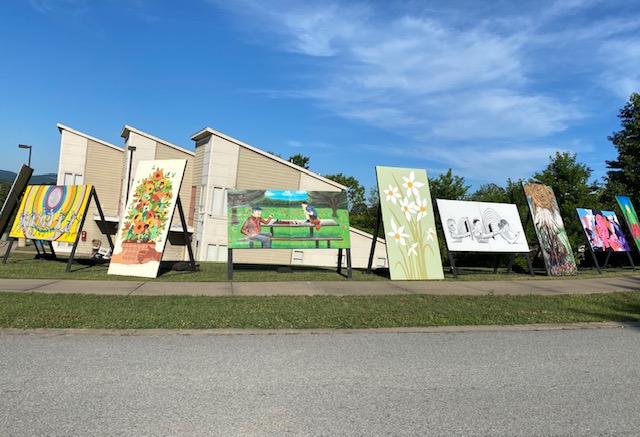 Crystal Bridges Museum of American Art has recently teamed up with local nonprofit organizations to allocate its resources during the COVID-19 pandemic. Working with the Northwest Arkansas Continuum of Care, Crystal Bridges is in the process of supplying cleaning, hygiene and resource kits, as well as creative kits to homeless, impoverished and isolated families and individuals.     
Cie Cochran, vice president of COC, said the Crystal Bridges Public Programs and Community Engagement team reached out to COC and other nonprofit organizations in the area about ways the team could help the community through a pandemic. 
Cochran said COC was a natural fit to work alongside Crystal Bridges during this project. She said after speaking with the team about the needs the nonprofits and community had, then brainstorming how to meet those needs, the results of those efforts came to be over 500 supply and creative kits to be distributed to member organizations of the COC in the community. 
The idea was to provide households or individuals with general art supplies like paints and utensils, things that could be used to complete art projects so families did not have to go out and purchase more products. Along with the watercolor art utensils included in the kit are step-by-step walk-throughs for meditation breathing exercises. 
This project aligns with the Crystal Bridges mission to connect the community through art and creative spaces, especially through a time of hardship in the community, and rest of the world. 
"It was really neat for me, in the midst of all of this, the Crystal Bridges team was thinking about the needs of a vulnerable population during COVID and they found an opportunity for people to express creativity, which you need during times of anxiety and high-stress," Cochran said. "It also strengthens the community. . . Crystal Bridges marshalled their resources and thought, 'How are the things they are good at going to be helpful in supporting the greater community?' I was really impressed and applaud their forethought in that way, especially thinking about this particular community."
What else is Crystal Bridges doing to aid the community?
According to the Crystal Bridges Community Engagement website, Crystal Bridges has partnered with over 30 organizations in health, social services, arts, cultures, schools and housing sectors to provide help during COVID-19, while remaining under temporary closure.
The five areas Crystal Bridges is focusing on are food, housing support, internet and information resources, artist support and its Social Connecting Campaign. 
To be more detailed, Crystal Bridges has partnered with the NWA Food Bank to distribute over 2,000 food boxes a week to local food pantries and provide 3,600 meals to school children. 
In the internet and information resources sector, the NWA COC has also come together with Crystal Bridges to provide access to and distribute information regarding low-cost internet options, helpline phone numbers and information about social services for those who may have no internet access. 
The Social Connecting Campaign, in its inaugural form, was organized by Crystal Bridges and The Momentary to, "help those especially vulnerable to the negative effects of isolation, including patients in hospitals and senior living facilities," according to the Crystal Bridges Community Engagement website under the Social Connecting Campaign tab. 
The campaign has selected nine artists to draw or paint murals in response to the word "TOGETHER," something the world needs at a time like this.
Small line drawings of the murals done during the campaign have been made into postcards that the public is invited to decorate, color and write inspirational messages on, which will then be sent to those in hospitals, living facilities and homeless centers. There will also be large-scale versions of the artists' works to be displayed outside of hospitals and facilities, where the art kits can also be picked up, making it more than just a temporary art exhibit. 
Sara Segerlin, senior manager of Public Programs and Community Engagement at Crystal Bridges, said each artists' mural tells a particular story about how they feel in relation to the world during this time of social change. The murals will eventually be transferred to Crystal Bridges in the fall when partners, guests and staff involved during this initiative will be invited to come mix, mingle and appreciate the art. 
While the museum was closed due to COVID-19, Segerlin said task forces were created to continue the mission of Crystal Bridges. "The board's idea was: if we can't open the museum and engage there, what can we find out are the needs of our community and what can we do during this time?" She continued, "We had to realize that we didn't understand the needs of the community, so we had to really call upon our social service partners. We had a lot of listening sessions with about 50 different nonprofits explaining the needs that are more specific to the region."
"The biggest one was housing security and food security. We worked with COC and found the biggest thing right now with COVID and loss of jobs was that people really need personal care kits and cleaning supplies," she said.
Starting June 29, Crystal Bridges will begin its distribution of said personal care kits, ones that will still include art activities within each kit. 
"Something that came out of COVID for us was: in order to get to know our community better, we have to realize we are not the experts that know where to go for people who have the most needs, but our social service organizations are. So if we team up together to enhance and uplift those organizations who provide shelter and beds, [Crystal Bridges] can then come in with the art and support," Segerlin said.
Segerlin said some of the residents of Seven Hills Shelter in Fayetteville shared their thoughts on the murals with her, each one finding themselves represented, in unity, with the rest of the world. In a time of isolation, the artwork done through the Social Connecting Campaign truly has reflected the ultimate goal: togetherness.
The exhibit has rotated through the month of June at the following locations: Arkansas Children's Northwest, Fayetteville VA Medical Center, Garden at Osage Terrace, Hillcrest Towers Senior Center, Mercy Hospital, Morningside of Springdale, Northwest Medical Center, Bentonville, Northwest Medical Center, Springdale, Providence Assisted Living, UAMS Northwest Regional Campus, Washington Regional Hospital and Willow Creek Women's Hospital.
For more information regarding Crystal Bridges involvement with the community through COVID-19, visit crystalbridges.org/community-engagement. 
Information regarding resources provided by the COC can also be found at nwacoc.com.