'A Confederate Widow in Hell' to appear as part of 'Our Universe' at Fenix Fayetteville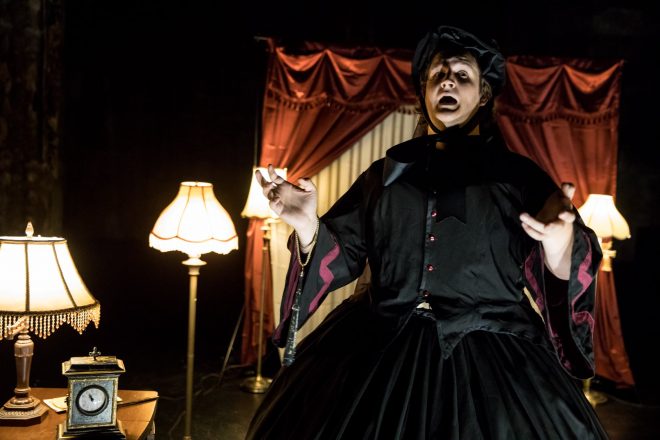 The minds behind nationally award-winning "There Ain't No More" are back with an irreverent dramedy that has been called "richly unsettling" and filled with ghostly possessions. Breaker\Fixer Productions will present the latest show, supernatural dramedy "A Confederate Widow in Hell," at Fenix Fayetteville as part of "Our Universe."
Set in an absurd and humorous world, "Widow" exposes lingering false narratives from the Civil War and Reconstruction by shedding light on their origins, the supported economic systems of oppression, and their current relationship to politics and white southern identity, according to a press release.
"Widow," written and performed by Willi Carlisle and Joseph Fletcher, is based on primary-source research, interviews with professional Civil War reenactors, sons of Confederate veterans, and historical criticism like "Confederates in the Attic" and "The Half Has Never Been Told."  The play follows a widow who, after 150 years of waiting, has returned to resolve her eternal fate. Armored in a full mourning gown and armed with mementos from her past life, she faces the legacy of the American South.
This one-night-only performance, associate directed by Laura Shatkus, will begin at 8 p.m. July 11, with doors opening at 7:00 p.m. Tickets are available at the door for $15. This appearance is made possible with the help of the Arkansas Arts Council's Arts on Tour program, according to a press release.
Breaker/Fixer Productions creates original performances at the intersection of theatre and folklore. BFP gathers and preserves meaningful traditions and difficult stories, exposing them to wider audiences. Often, the stories found most exciting are from cultural outsiders, rural places, or divided communities.
Using fieldwork and primary-source research, BFP adapts stories, songs, and perspectives into performances that address contemporary social issues. The shows stand as object lessons, empowering audiences to actively engage in their own forgotten pasts, oral histories, and cultural legacies.
Willi Carlisle is an "Ozark renaissance folklorist" who writes "brilliant, slice of life Americana." (Sing Out! Magazine) A theatre artist, folksinger, poet, and square-dance caller, Willi received a BA from Knox College in Creative Writing and Performance Studies, and an MFA in Poetry at the University of Arkansas. His work has appeared in The Journal of American Folklore, The Midwest Review, and elsewhere. Willi is a co-leader of the Fayetteville Oldtime Music and Dance Society and a company member with the Artist's Laboratory Theater. His debut EP, "Too Nice to Mean Much," is available at www.willicarlisle.com along with additional show info.
Joseph Fletcher is a director, producer, and stage manager. Past directing credits include Purim-Schmutz, China the Whole Enchilada (NYC), The New Now, Las Posadas, Alley 38, War of the Worlds, The Pillowman, Candide, and The Sunshine Boys (Regional). In various capacities he has worked with the Walnut Street Theatre, Cirque Du Soleil, the National Tour of Chicago the Musical, The Signature Theatre, Prospect Theatre Company, Target Margin Theatre, Hippodrome State Theater, and Orlando Shakespeare Theatre and Orlando Opera. He is a founding member and artistic producer for the Artist's Laboratory Theatre a nonprofit community based devised theatre company in Fayetteville, AR. He has a BFA in Theatre from the University of Central Florida.
Laura Shatkus is an actor, director and producer from Chicago. She earned an MFA in Acting from the University of Arkansas and has served as the Artistic and Producing Director of ArkansasStaged for the past 4 years. Recent directing credits include work with Opera Fayetteville and William Inge Theatre Festival. In Northwest Arkansas, Laura has worked professionally with TheatreSquared, The Northwest Arkansas Shakespeare Festival, The Artist's Laboratory Theatre, NWA Prison Stories Project, The Global Campus, Block Street Theatre and Trike Theatre. Chicago and Regional Theatre credits include work with Florida Repertory Theatre, The Hippodrome Theatre, North Dakota Shakespeare Theatre, The Gift Theatre, Collaboraction, Mary-Arrchie, Muse of Fire, and 16th Street Theatre among others. She was named a Visionary Arkansan by The Arkansas Times and "One To Watch" by the NWA Democrat-Gazette and hopes to not do something stupid while you're looking. www.laurashatkus.com