Arkansas Arts Council Call for Entries: Small Works on Paper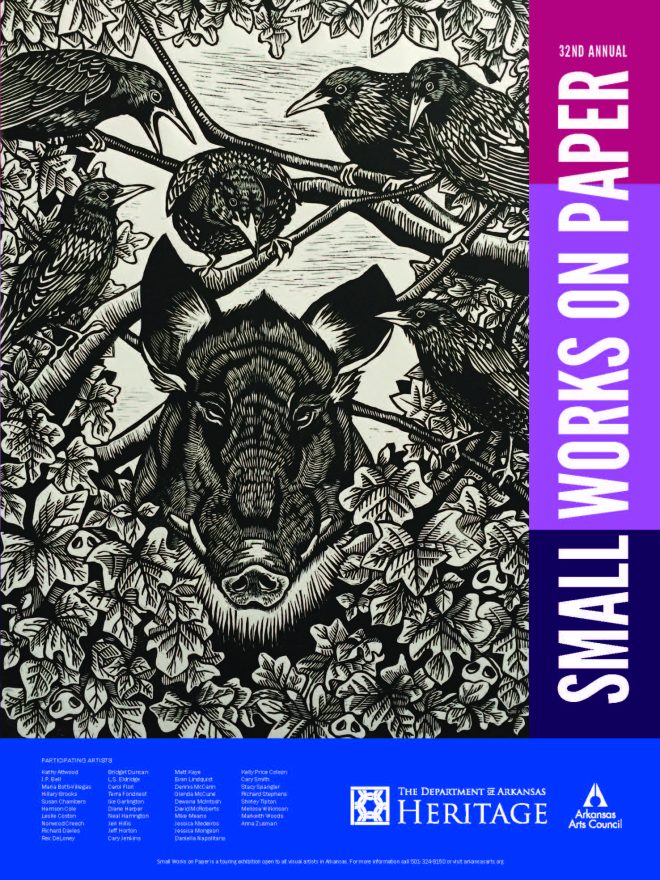 Calling all Arkansas artists! Submissions for the 2020 Small Works on Paper touring exhibition are open until July 26.
Small Works on Paper is the annual, juried art exhibition sponsored by the Arkansas Arts Council, which allows artists to present their work to multiple audiences in nine different locations throughout the state. Eligible artists include Arkansans who are members of our Arkansas Artist Registry.
When submitting artwork, the council asks artists to choose works on paper and completed within the last two years. "The artwork must be original and not a reproduction or copy of anyone else's work. Accepted artwork must fit into a frame of 18 inches by 18 inches or 18 inches by 24 inches. Matted or mounted work, plus backing board, must not exceed ½ inch thickness. Frames for the accepted works will be provided by the Arkansas Arts Council," according to the call for entries.
Up to 40 artworks will be selected for the show, and up to $2,000 will be available for juror selected awards that will become part of the council's permanent collection. Artists who are chosen to participate in SWOP will be notified in September.
The 2020 juror is Jamie Adams, associate professor of art at Washington University in St. Louis. Adams holds a Bachelor of Fine Arts degree with honors from Carnegie Mellon University and an Master of Fine Arts degree from the Pennsylvania Academy of the Fine Arts. His work is in the Crystal Bridges Museum of American Art in Bentonville; the Museum of Modern Art in Wales; Museu Brasileiro da Escultura in Sau Paulo, Brazil; Museum of Modern Art Library in New York; and Woodmere Art Museum in Philadelphia. Adams's work has been cited in publications including Art in America, Blisss Magazine, Novembre Magazine, the Huffington Post, Just Magazine and Hi-Fructose Magazine.
The cost to enter artwork is $10 for one piece, $20 for two and $25 for three. Entry forms are available at arkansasarts.org or by emailing Cheri.Leffew@arkansas.gov.
For more information on Small Works on Paper or the Artist Registry, visit arkansasarts.org or call 501-324-9150.