Christmas pop-up bar to return to Bentonville for second year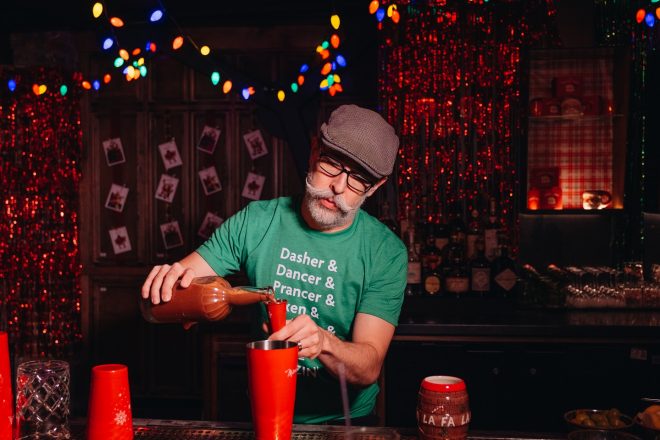 This year has just about landed itself on the naughty list, but a Bentonville bar is bringing some holly jolly news into town just in time. The Preacher's Son's popular speakeasy, Undercroft, will host the second annual Christmas pop-up, Miracle on 2nd Street, and to celebrate the second year in town, the bar will be adding a second space. The first will be in the speakeasy below The Preacher's Son, and the second up on the rooftop (but not down the chimney). Miracle begins Tuesday, Nov. 24, and continues through Tuesday, Dec. 31.
"As this special time of year quickly approaches, spirited cheer, universal desire for hope, nostalgia, and Christmas spirit is needed more than ever. Miracle on 2nd Street, joining cities like New York, Los Angeles and Austin, has been the festive, fun and whimsical destination for gathering with friends and family to enjoy delicious seasonal drinks, and 2020 will bring the same holiday magic along with a few twists," according to the 2nd Street elves behind the magic.
You know Dasher, and Dancer, and Prancer, and Vixen; Comet and Covid and Donner and Blitzen. Along with holiday cheer comes COVID-19 precautions.
In effort to safely practice physical distancing, all guests must check in with the Miracle team upon arrival and will receive a wristband as their access into both Undercroft and The Preacher's Son rooftop, according to a press release. As per usual in most public spaces, masks are mandatory in both locations except when eating or drinking. Reservations will be open to the public soon and are strongly encouraged. Walk-ins are not promised.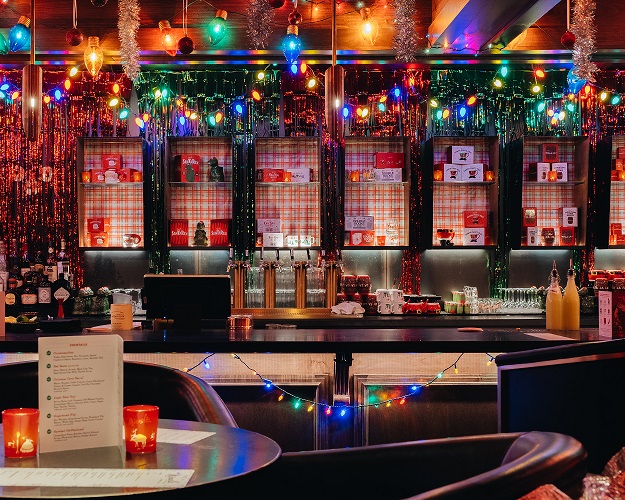 MENU
Guests 21 and up can expect unique and unusual cocktails that play on classic holiday flavors in playful mugs and glassware. The Miracle team is bringing new cocktails to our frosty faces this year. Check your list twice for the Jolly Koala with Gin, Vermouth and Pine-Cardamom-Sage Cordial; the On Dasher, a concoction of Bourbon, Mezcal, Sweet Vermouth, Spiced Hibiscus, Burlesque Bitters, and Lemon; and the Fruitcake Flip, made of Brandy, Jamaican Overproof Rum, Amaretto, Fruitcake, Cherry Bitters, and a Whole Egg. Returning classic Miracle cocktails include the Snowball Old-Fashioned, Christmapolitan and Yippie Ki Yay Mother F****r!. Kitschy Christmas mugs, couples and highballs are available for purchase.
COCKTAILS
Christmopolitan
Vodka, Elderflower, Dry Vermouth, Spiced Cranberry Sauce, Rosemary,
Lime, Absinthe Mist
Jolly Koala
Gin, Vermouth, Pine-Cardamom-Sage Cordial
Snowball Old-Fashioned
Rye, Gingerbread, Angostura Bitters, Wormwood Bitters, Orange Essence
On Dasher
Bourbon, Mezcal, Sweet Vermouth, Spiced Hibiscus, Burlesque Bitters, Lemon
Bad Santa (served hot)
Mulled Red Wine, Tawny Port, Orange Liqueur, Christmas Spices
Christmas Carol Barrel
Reposado Tequila, Coffee Liqueur, Dry Curacao, Spiced Chocolate
Fruitcake Flip
Brandy, Jamaican Overproof Rum, Amaretto, Fruitcake, Cherry Bitters, Whole Egg
SanTaRex
Tequila, Herbal Mint Liqueur, Cacao Blanc, Mezcal, Serrano, Coconut, Acid-Adjusted Pineapple
Yippie Ki Yay Mother F****r!
Blend of Four Rums, Pumpkin-Almond Orgeat, Lime, Angostura Bitters
Jingle Balls Nog
Cognac, Cream Sherry, Almond Milk, Cream, Egg, Vanilla, Nutmeg
SHOTS

Nice Shot
Rum, Peppermint Tea, Chocolate
Naughty Shot
Bourbon, Cinnamon
Mistletoe Shot
Rye, Gingerbread Spices
WHEN AND WHERE:
Miracle Pop-Up
Tuesday, Nov. 24 – Thursday, Dec. 31
4 p.m. to 12 a.m. Tuesday through Saturday
Closed Sunday and Monday for private events – email sales@ropeswinggroup.com to learn more.
201 NW A Street in Bentonville. Undercroft will once again be the holly jolly Christmas theme we all fell in love with last year and The Preacher's Son rooftop will transform into a magical winter wonderland.
ABOUT: Bentonville's Undercroft specializes in craft cocktails and can be found through a side archway simply marked "bar" or the basement door marked "coatroom" (but you didn't hear it from us). Located beneath a historic church, where The Preacher's Son now resides, enter a seductive and hidden space, where signature and classic cocktails are the language spoken. For more information, call 479-445-6065 or visit the Miracle on 2nd Street Facebook event page. Follow Undercroft on Instagram at @undercroftbar and like them on Facebook.
Miracle is an international Christmas-themed pop-up cocktail bar that serves holiday cocktails in a festive setting. With kitschy holiday décor, professionally-developed cocktails and the nostalgic energy of the best office party you've ever been to, Miracle is sure to get even the grouchiest grinch in the holiday spirit.
The concept was born in 2014 when upon the advice of his mother, owner Greg Boehm decided to halt construction of what was to be his new East Village cocktail bar called Mace and transformed the unfinished space into a pop-up bar serving holiday-themed drinks among over-the-top Christmas decorations. As crowds swarmed the NYC location, Boehm's friends throughout the bar industry nationwide asked how they could recreate the holiday magic on their own turf and expansion became inevitable. The following year, Miracle expanded to four locations and in 2016, it went worldwide with pop-ups in Greece, Montreal and Paris. Currently, Boehm and manager Joann Spiegel are pleased to expand the concept to all corners of the US, plus pop-ups in Canada, Europe, Asia, and Central America.