THE CHANGE AGENTS: Steve Clark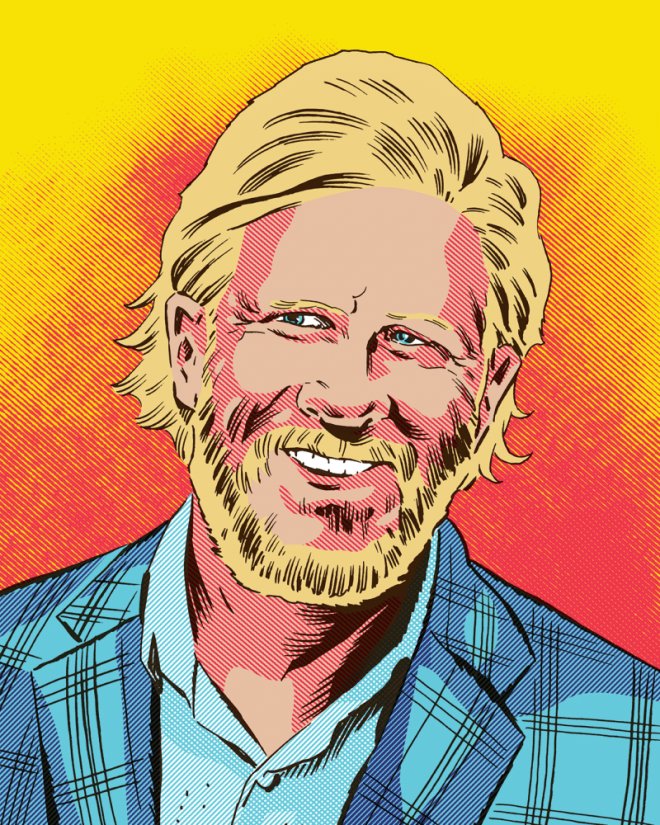 INTERVIEW / KODY FORD
ILLUSTRATION / CHAD MAUPIN
Despite being the second largest city in Arkansas, for many years Fort Smith was mostly known for its frontier history, not its contemporary cultural impact within the region. But in 2015, things changed. Businessman and art enthusiast Steve Clark brought together a group of community leaders to form the nonprofit 64.6 Downtown and launch The Unexpected, an annual public art festival that turned the barren walls of downtown Fort Smith into a visual feast. The Unexpected has brought major international street artists such as Vhils, D*face, Ana Maria, Bicicleta Semfrio and more to the state. It has inspired cities across Arkansas to look for new ways to reinvent themselves through public art and left a lasting impact on our region. 
Walk us through the origin of The Unexpected and your role in the creation. 
The Unexpected was born after establishing relationships with a few artists who had insight into the street art scene. I was able to have conversations about what it meant, from the artist's perspective, to bring art of this scale to communities, and then became interested in how the model could be applied to Fort Smith and how that might affect the community – to see unexpected art in an unexpected place.
What sort of support and/or pushback did you receive from the Fort Smith community? 
Overall the community has been very supportive. The first year I was very aware that I might have to leave town as a result of The Unexpected. I jest, but the nature of the event was to provoke, and public art by nature is disruptive. We were prepared for the criticisms because, by design, we wanted people to have a conversation about art, who we are and what we wanted to be; whether you love it or hate it, you're talking about it.  
Over the years, the Unexpected has evolved, branched out. What made you guys want to do that? 
The beauty of being called The Unexpected is that we get to reinvent ourselves, however we see fit. It's important to us that the program maintains its relevancy and authenticity. Yes, the art is nice and lasting, but how are we able to make those stronger impacts through more individualized programs that tie into social needs within the community?
How has creative placemaking affected Fort Smith?  
Many great programs and initiatives have established themselves in Fort Smith from Peacemaker Music Festival, Steel Horse Rally and Ales for Trails to name a few. The town is uniquely entrepreneurial, and the city continues to make great strides in offering activities that focus on community engagement, health, well-being and etc. I'm proud that The Unexpected is a part of that.  
Over the last few years, development and revitalization has received backlash as gentrification. What are your thoughts on development having unexpected consequences?  Do you feel Fort Smith has avoided this in the areas the Unexpected has touched? 
Growth and change are inevitable and it comes with growing pains unfortunately. Fort Smith is in a unique situation in that it's growth is a bit slower and more grassroots. Essentially, the community is building the kind of city it wants to live in.
What role has the Unexpected played in training Arkansas artists to do large-scale projects? 
We've partnered with UAFS students and faculty and the local high schools – Northside, Southside and Future School – since our inception in 2015, and cultivated relationships with local artists and artisans along the way which resulted in having local artists on the official program line up in 2018 and 2019. While I understand the desire that local artist have to be involved, and it's a great compliment to us, that simply wasn't the event we developed. Our intention was to bring the outside in, to a place the world might never look otherwise. Now we have a platform for Arkansas as an artistic and artist friendly state, and that's a benefit to the creative economy on the whole. Artists who have grown up with us through The Unexpected now have opportunities to travel and work nationally and internationally through established connections made through The Unexpected.
How important is it for people of means to support public art and the arts in general? 
With civic funds constantly being cut for art programs, it's more important than ever for people to support public art and the arts with not just their money, but with their time and participation.
Have you always been an art lover? If not, what got you into art collecting and supporting art projects? 
I've always enjoyed seeking out the new and unusual, and I feel, regardless of the God you believe in, if you believe in one at all, that we are a species designed to respond  to order, design and beauty. So yes, in short I have always been an art lover.
If you were talking to a mayor or city council in a town that was on the fence about public art, what would your pitch to them be about the importance of it? 
Art helps a community with its sense of place and purpose, and can catalyze activity, innovation and growth. These are all good things for healthy and sustainable communities.  
What's next for the Unexpected and/or you as a patron of the arts? 
We'll continue to bring art to Arkansas and Fort Smith while dialing into how our programs can affect positive change.