THE CHANGE AGENTS: Sharon Killian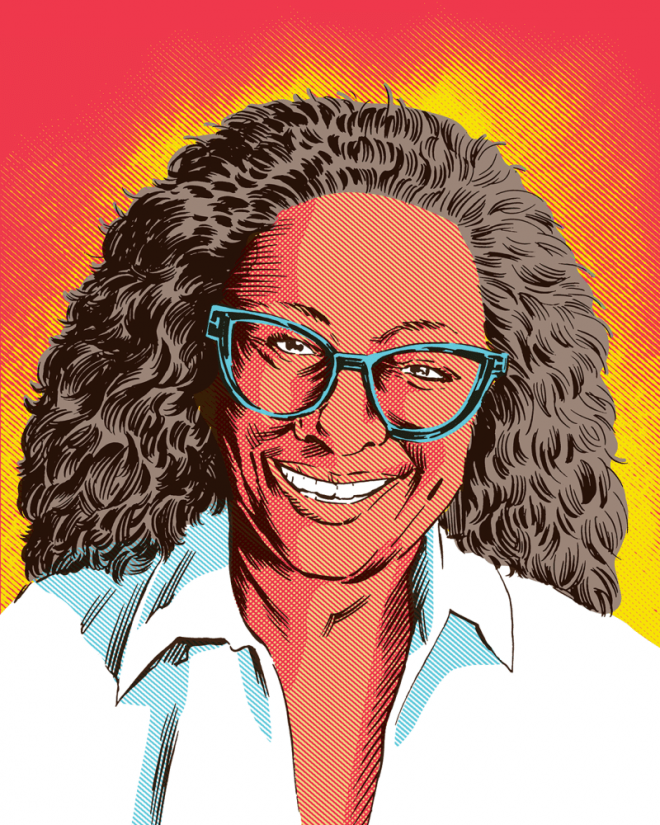 INTERVIEW / KODY FORD
ILLUSTRATION / CHAD MAUPIN
Sharon Killian is an artist who is passionate about discovering cultural connections through the universal language of art. Her work as president of both Art Ventures NWA and NWA African American Heritage Association helps to connect communities in the region from both cultural and artistic perspectives. She believes that melding culture with art is an opportunity for local, globally significant education; brings critical thinking to the table; gives us a chance to dispel preconceived and often false notions about each other; and creates change on the individual, grass-roots level. 
How did you get into working with art nonprofits?
As an artist I understand how difficult it can be for a gallery to show interest in your work. Artists are subject to the same pressures as the rest of society, and can be rejected because what they are doing isn't popular enough. Or, it can be simply that the artist doesn't look the part, doesn't reflect the people behind the reception desk. I wanted to create a change by opening opportunity for a broad variety of artists including those who don't all fall into the historical pattern of gallery representation.
When Art Ventures first rebranded, what was the vision for the organization?
Our byline is "Art for Everyone" and we really mean it. Everyone won't be an artist in the maker sense of the word, but we all respond to our world every day by creating a visual persona, for instance. We want those people to be able to feel they can learn about art-thinking, and to appreciate it as a means of communicating across cultures. And, importantly, we wanted everyone to find a piece of art (large or small) that they love and collect it; creating a symbiosis in our ecosystem.
Do you feel like you have stayed true to that vision? If things have changed, how have you navigated those changes?
We have used our mission as a guide for every step we have taken and continue to take, even in the throes of the COVID-19 pandemic. I believe we have survived many hardships by trying to be laser focused on our mission. Access in a physical sense is an important aspect of our mission and making our new gallery space fully accessible is part of the change will navigate with our new gallery spaces.
Art Ventures has been a major advocate for artists of color. Do you feel that the organization has helped create new opportunities for these artists and shift the cultural conversation in NWA to be more inclusive?
Creating center space for BIPOC and all their intersections is an important part of creating a cultural landscape within which communities thrive. I agree that Art Ventures helped to shift the cultural conversation in NWA to be more inclusive. But, as you know, there is always more work to be done.
What have been the challenges you've faced as an independent nonprofit gallery? How have you worked to overcome them?
We have had challenges that exist because this is a Black woman led non-profit. Being that I know the construct is what it is, but also that the system must begin to work or we as a community will not thrive, I have persevered. The fact is that with all of the energy and gifts Art Ventures bring, underfunding is still a problem. In spite of this, we have definitely attracted great people in the community who without fanfare, support this critical work that we do such as the curatorial internship program, K-12 Gallery Initiative and key exhibitions and programming.
How did the new location come about? What are your thoughts on it?
We had a breakthrough! A donor saw an opportunity to acquire a property within a stone's throw of the cultural corridor and thought of Art Ventures. I said yes. We are grateful to have our indoor and outdoor exhibition and events space for a new executive director to help activate and grow. Although we currently have a multi-year lease, we will be working on a fundraising drive to develop 20 S. Hill into the Art Ventures center with artist studios, adult and children's galleries, and more.
What are the plans for Art Ventures in the coming years?
Within reasonable terms, we want to return to robust art sales so that represented artists can make a living and bring joy to collectors wherever they live or work. And, we would like to get artists into studios so the community can appreciate art making in real time. We also want to continue to excel at creating thoughtful and diverse exhibitions while continuing to build a workforce with our curatorial intern program that now includes students from NWACC and SOA.
Is there anything else you'd like to add?
Yes. I want to thank you and The Idle Class for also being a part of the effort to make NWA a more culturally inclusive community.