THE LEGACY ISSUE: The Musicians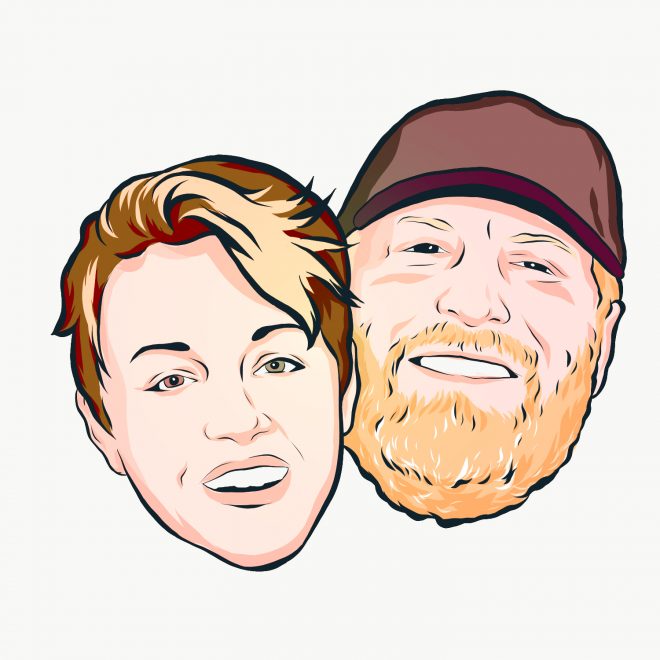 Bernice and Bryan Hembree have a storied history in the Fayetteville music scene. After their band 3 Penny Acre decided to go on indefinite hiatus in 2013, Bernice and Bryan Hembree started Smokey and the Mirror to explore new sounds and songs. When the musical couple met in 2002, they immediately hit it off and began performing together. By 2010  the Hembrees held regular yearly house concerts, hosting musicians at their house and inviting friends to enjoy and support live music. That summer, they didn't have enough space to both house the musicians and host the audience. Their longtime friend Chef Jerrmy Gawthrop offered to host the one-day musical extravaganza at his restaurant Greenhouse Grille, and by the following year it had evolved into the Fayetteville Roots Festival. Fayetteville became even funkier, and the rest is history.
Why do we need Roots Fest?
BERNICE / [I] can say with certainty that Fayetteville Roots has brought artists to this area that have never made it to Northwest Arkansas previously: John Prine, Booker T and the MGs, Yola, Hurray for the Riff Raff, Hiss Golden Messenger, Anaïs Mitchell, Josh Ritter, Gregory Alan Isakov, Birds of Chicago; I could go on and on. Roots has worked hard to bring fantastic music to Northwest Arkansas, and to make aware how lovely our town and region is to those visiting. Now, is it a "need" to have those acts come to our town? No. But doesn't it feel good when you don't have to travel outside your hometown to hear and see good music and enjoy good food? Yes.
Have there been any challenges in balancing family, your musical careers, supporting other musicians and heading a festival? How have you overcome them?
BERNICE / For people who love problem solving, the challenges are manageable. Luckily, Bryan and I see eye-to-eye on most things, and we are grateful for the other paths in our lives that create a healthy balance. Bryan has worked at the U of A for 18 years, and enjoys what he does. Finding a balance between the day job and the music job is most challenging for him, and honestly I'm still not sure how he does it. Bryan certainly has magic energy and a willingness to work hard on his ideas, otherwise the balance wouldn't work. Having a child, now a teenager, with her own interests in the world helps to keep us grounded and motivated. Our deep love of music and shared joy in introducing friends to new (and old) music keeps us inspired to bring musicians to Fayetteville, either for the annual festival or to the Roots HQ. Overall, we both find fulfillment in supporting each other whether on stage or digging a hole in the garden. Having trust and support from a partner makes the dreams and goals of our lives enjoyable and achievable, or at least gives you someone to lean on when the balance becomes dizzy!
If you were a Roots Fest menu item, what would you be and why? 
BERNICE / Strawberry Shortcake. Everyone has their own take or variation on this simple dessert. But like a good song that many people cover, it's always good. Also, I always appreciate a chef's special secret sauce: it tends to be the extra little thing that adds a special touch, just like jumping on stage and adding some harmony to a song. It's the special topping that can make it zing.
BRYAN / I would be dinner backstage. I love the feeling of artists gathering together and sharing a meal. Some of my most favorite moments of the festival have been popping backstage to grab a plate and seeing so many artists together smiling and enjoying the company and grateful to be on the gig.
What's the best piece of advice you ever received? 
BERNICE / Don't piss off the sound guy/gal.
BRYAN / I don't know that any one person said this to me, but over time I have come to realize that "Making It" is an illusion. It doesn't exist. The only thing that exists is getting to the end of the road and looking back and realizing the amazing opportunity to have built a life in music. 
What's coming up for Smokey & the Mirror? Any other dates we should keep our eyes on?
BERNICE / We've been patiently waiting for Covid to ease up before making any plans.   This summer will offer opportunities to play outside in the glorious sunshine.  
BRYAN / Back to the idea of building a life in music, this year has been the challenge of a lifetime but also just a moment along the lifelong journey.   Gigs go away and the way we reach an audience is ever changing, but songs don't die, they live on. We will play live gigs again, it is just difficult to say when that will be, but it will be.