Celebrate beer, music & tech at AMP Fest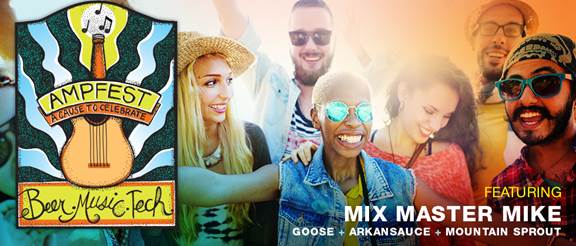 The Walmart AMP is excited to present an all-new beer, music and tech festival this fall. The inaugural AMP Fest will take place on Sunday, Oct. 2, 2016 from 2 pm to 6 pm and combines the best in live music, craft beer and the next generation of technology. The festival will feature cutting edge games and tech activations, live music on three stages and craft beer from over 20 local, regional and national breweries. Organized by Walton Arts Center's Corporate Leadership Council, AMP Fest is designed to raise awareness of Walton Arts Center's various education initiatives with all proceeds benefiting Arts Education programs at Walton Arts Center.
Tickets are on sale now and prices range from $40 for general admission and $95 for VIP, which includes a Fayettechill t-shirt, AMP Fest growler, access to VIP lounge and additional perks. Tickets can be purchased in person at the Walmart AMP Box Office in Rogers, Walton Arts Center Box Office in Nadine Baum Studios in Fayetteville, by calling 479.443.5600 or visiting www.amptickets.com. For downloadable photos, visit the AMP Fest Dropbox.
The one-day festival will include unlimited free samples of craft beer from Fossil Cove, Apple Blossom, Core Brewing and a number of other local breweries as well as national and regional breweries like Lagunitas, Lost Forty and Mother's Brewing. AMP Fest will play host to a number of artists including DJ Mix Master Mike, Arkansauce, Mountain Sprout and Goose, with more artist announcements coming soon. Attendees will also be able to pay to play with cutting edge technology and explore a variety of interactive experiences such as Samsung Virtual Reality and video game competitions on the AMP video walls.
The Walmart AMP (Arkansas Music Pavilion), a Walton Arts Center venue since February 2011 is Arkansas' premier outdoor concert venue. The AMP has presented headlining concerts for the past 11 years, including rock, country and pop. In its permanent home in Pinnacle Hills at 5079 W. Northgate Rd., Rogers, Ark., the Walmart AMP has the largest outdoor stage house in Arkansas.