Celebracion del Dia de los Muertos at Arts Center of the Ozarks this weekend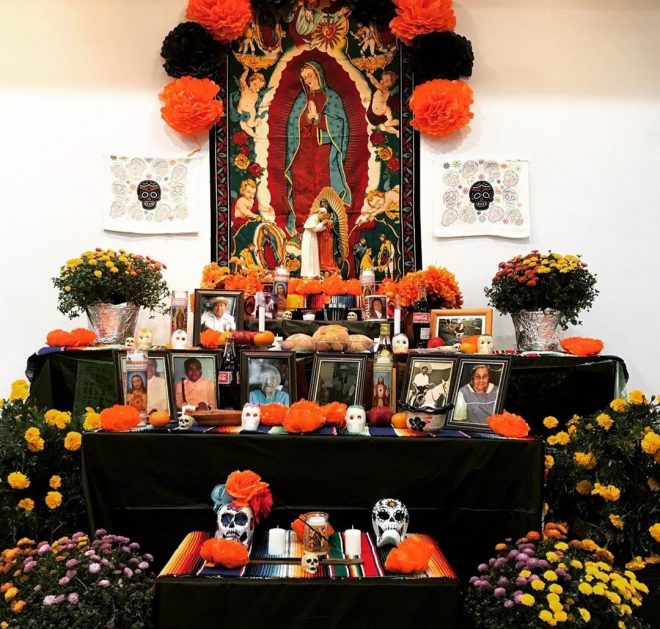 The Latin Art Organization of Arkansas and Arts Center of the Ozarks are partnering up to present Northwest Arkansas' largest Day of the Dead celebration this weekend.
Through interactive and immersive arts, a Catrina processional, and an altar/ofrenda exhibition, attendees can honor friends, family and community members who have passed away. The ofrenda exhibition will be open from 10 a.m. to 2 p.m. every day of the festival. Ballet Folklorico will perform a showcase, and local artists will present a pop-up art exhibition.
The activities are designed and led by a collaboration of Northwest Arkansas artists who represent various perspectives on the holiday, according to a press release. Araceli Lopez of Latin Art Organization of Arkansas is curating the family altars exhibit and leading the Catrina processional followed by the Folklorico Showcase.
The NWA Day of the Dead Celebration was created by the Arts Center of the Ozarks and Latin Art Organization of Arkansas for Latino and non-Latino community members to enjoy the rich visual, performance and culinary traditions of this holiday that originates in Mexico and parts of Central and South America, according to a press release.
From ACO:
Día de los Muertos is an ancient Mexican and Mexican American holiday that integrates pre- Columbian and Catholic customs. It is often celebrated in Mexico on November 1 and 2 (dates vary by region and may be longer) in connection with All Saints' Day and All Souls' Day. Because of the dates, the customs of Day of the Dead may be confused with the customs of Halloween. They are not connected, have very different origins, and the symbols and ideas of death are opposite. In the typical Halloween festivities, death is something to be feared, represented by a skull face that is dark, leering and frightening. Day of the Dead skull paintings are full of color and happiness, always smiling, representing a celebration of the life of those who have died.
Mindful of the day's historic-religious roots, the Latin Art Organization of Arkansas and Arts Center of the Ozarks transforms the celebration into a cultural observance for the community by mixing popular with customary materials, sacred with secular objects, personal with social issues, and traditional art with contemporary expressions. Organizers have been careful to maintain and respect the cultural essence of the Day of the Dead tradition, while interjecting a modern aesthetic as envisioned by regional artists and organizations, and representing the various ways that the holiday is celebrated in different regions.
Northwest Arkansas is joining a growing number of U.S. communities in nearly every state who celebrate this tradition, so much so that it was recently called "America's newest holiday." People of all backgrounds, ages, genders, nationalities and religions are invited to bring your family and friends to honor and celebrate the circle of life and death in this old/new cultural tradition. For information about specific events and to participate, go to 
www.acozarks.org
, or inquire at 
info@acozarks.org
.
Calendar of Events: Altars and outdoor events are free and open to the public, showcase is $10
GALERÍA OFRENDAS/ALTAR EXHIBITION 
Oct. 29- Nov. 2, 10 a.m.-2 p.m. daily
Throughout the festival, traditional community remembrance altars or "Ofrendas" are built, covered in photographs, hand painted paper maché, sugar skulls, marigolds, trinkets, food for the dead and candles. Community members, artists, and schoolchildren all present personal memories of those whom they have lost in striking visual presentations.
DIA DE LOS MUERTOS CELEBRATION
12:30 p.m.-6 p.m., Nov. 2
This free outdoor celebration will showcase 12 different performance groups from ballet forklorico to mariachi to dancing and singing groups on the outdoor stage. Over 20 vendors will be set up, including traditional Mexican food, crafts for kids, clothing, information tables, and more! Gather and celebrate with us, remembering the people who have filled our lives with love, wisdom and guidance.
CATRINA PROCESSIONAL – ARTS CENTER OF THE OZARKS
5:30 p.m. Nov. 2
Gathering will take place at ACO at 5 pm. The processional will begin at 5:30 pm and will begin and end at Arts Center of the Ozarks.
LATIN ARTS ORGANIZATION OF ARKANSAS – SHOWCASE
Experience spectacular Mexican and Latin American performance traditions from Latin Art Organization of Arkansas featuring Ballet Folklorico Catrinas and more. Bilingual performance of traditional Latin folk dance. Created for family audiences and suitable for everyone, no matter their language or age.