Bottle Rocket Gallery North and Regional Artists Team Up to Bring Video Art to Bentonville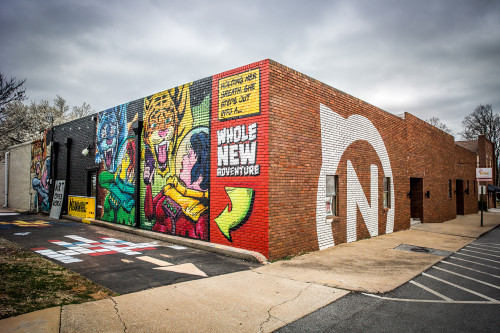 Bottle Rocket Gallery recently opened up their newest location at 207 NE 2nd St. in downtown Bentonville through an alliance with Artansas, a local organization that promotes Arkansas artists. In just a few days, Bottle Rocket presents Video – Future Art, its third show in just three months. Utilizing video to explore the world of motion picture, Video – Future Art alters guests' perceptions of the visual landscape through manipulation, recombination and experimentation.
Works by Mike Abb, Kat Wilson, Dillon Dooms, Corey Johnson, Sara Segerlin, Danny Baskin and Joel Vedros showcase the complexity of human connection and the importance of human memory. Using video – a medium to record memories – as a tool not only to record, but to manipulate popular memories, the works of these artists inspire viewers to question their own patterns of recollection and discover new ways of seeing into their everyday environments.
"The recollection of memories is like creating a work of graffiti on the walls of the mind," featured artist Cory Perry explains. "Over time, thoughts/words/expressions get fuzzy, marked out, altered or deleted. In my work I take the 'memory' and push it through this struggle, so by the end the piece becomes an eclectic beauty."
To celebrate the work of these artists, Bottle Rocket North will host a soft opening at the upcoming First Friday in Bentonville on July 1st from 6-10pm, followed by a closing reception the following First Friday on August 5th from 6-10pm. This show is free and open to the public! Follow the artists' progress all month as they evolve their pieces into final form, just in time for the closing reception where Bottle Rocket North will provide music, refreshments and plenty of good company.
For further details, please contact Kat Wilson at katographic@gmail.com.