Justus Fine Art Gallery features Gary Simmons, Kristin DeGeorge, Donnie Copeland & Michael Ashley in July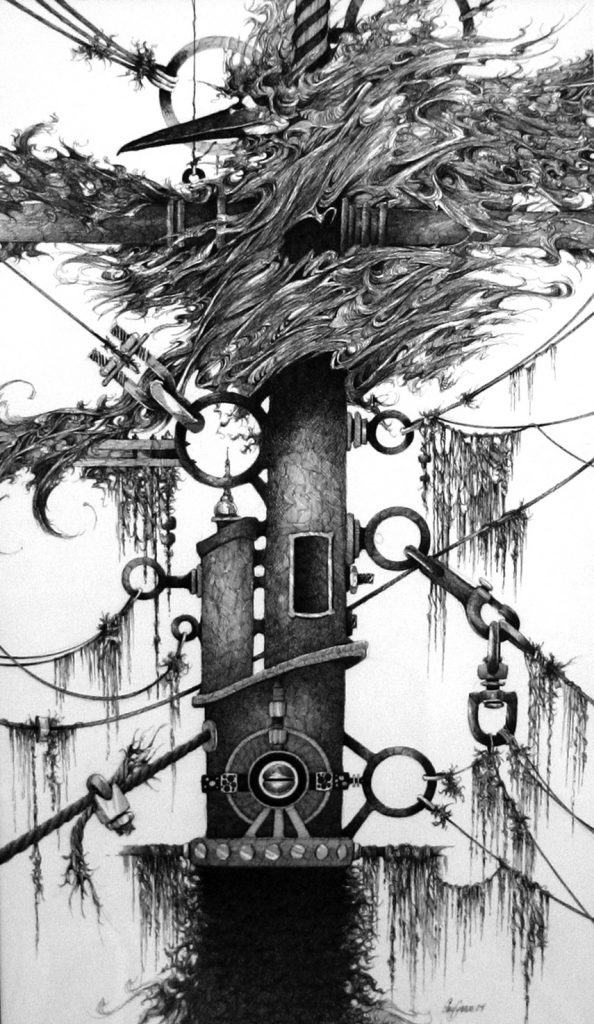 The July exhibit at Justus Fine Art Gallery will feature a selection of pen and ink drawings by Gary Simmons, along with original prints by Kristin DeGeorge, paintings by Donnie Copeland, and new work by ceramic artist Michael Ashley. The exhibit will open with a reception on
Friday, July 1
from
5-9 p.m.
, in conjunction with the monthly Hot Springs Gallery Walk. The show will be on display from
July 1 – 31, 2016
.
Gary Simmons is a multifacted artist having worked in numerous media, but it is his pen and ink drawings that he is most known for. His mastery of the use of line is evident in Changing of the Guard, an imaginative piece that features riggings and tattered trappings with hints of bird forms connected by a central mast. Simmons' drawing entitled Destiny offers a close-up view of dark poles lashed together by fraying cords in a dramatic composition. Simmons is the author of The Technical Pen, considered a "must have" for anyone interesting in learning more about pen and ink techniques. Originally published by Watson Guptill in 1992, the book has been republished by Echo Point Books. Along with an extensive exhibition history and long list of collectors, Simmons recently retired from serving as an art professor at Henderson State University. He has also taught numerous pen and ink workshops throughout the nation at venues including: the Dallas Arts and Crafts Association in Dallas, TX; the National Art Materials Trade Association in Philadelphis, PA and in Arlington, VA; the Flushing Art League in Queens, NY; Allegheny Highland Arts in Clifton Forge, VA: Woodlands Workshop in Vancouver, WA; the Visual Arts Center of NW Florida in Panama City, FL; Rapid City Arts Council in Rapid City, SD; Artist and Display in Milwaukee, WI; the Barnwell Art Center in Shreveport, LA; the Naperville Art League in Naperville, IL; the Arkansas Arts Center in Little Rock, AR; Henderson State University in Arkadelphia, AR; the Daytona Beach Art League in Daytona Beach, FL; Camp Brook Comer Gallery in Bethel, Vermont; and many others.
Kristin DeGeorge's mixed media monoprints employ the use of delicate etched lines that suggest barbed wire, chain mail, flags, and armor, along with accents of color and texture in her spare and intriguing compositions. DeGeorge's work has been exhibited in the U.S. and abroad, including 
Coffee Brea: Tertulia en Imáenes
 at the U.S. Embassaby in Madrid (1994), Spain; 
Warriors
 at Galerîa Hartmann-La Santa in Barcelona (2012); 
Works on Paper and Metal
, de Pata Negra in Madrid (2012), 
Made in Spain: Weapons of Unwelcome
, England Gallery, Arkansas State University, Beebe, AR (2016); 
Inked Arkansas
, work by the Arkansas Society of Printmakers at the Laman Library, North Little Rock, AR (2016); and others.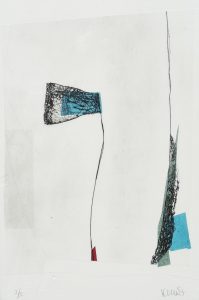 Donnie Copeland's painted paper on canvas stria employ strong patterns of line and form which are suggestive of the planted fields and prairie that run along Mississippi and Arkansas, while also bringing in patterns from cultures from throughout the world. Donnie Copeland earned a BA in Studio arts from Ouachita Baptist University and then continued his education at the University of Dallas where he obtained a MFA in painting. Copeland currently serves as Associate Professor of Visual Arts and Chair of the Department of Visual Arts at Ouachita Baptist University where he teaches painting, drawing, and art history.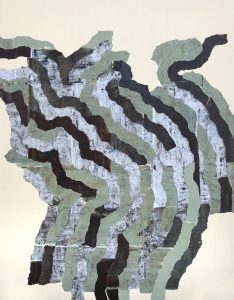 "Bent curvilinear bands are painted on paper and then affixed to the canvas which in turn serves as a platform for the abstractions. There is a definitive point of distinction between the paper, paint and canvas. Copeland's paintings suggest cross-sections of ambiguous natural forms or… geological structures and sedimentary materials. Through his investigation of charcoal, acrylic and paper, Copeland's lyrical strata emerge as both rich and detached. The worked-over surface of the collage elements contradicts the austerity of the pristine canvases." – Eric Sutphin, Boundary Hunters: Four Parts to Every Story. Exhibit Catalog, 2012.
New work by ceramic artist Michael Ashley will also be featured in the July exhibit at Justus Fine Art Gallery. Growing up in Springfield, Missouri, Ashley spent his childhood playing in rivers, creeks and exploring the complex landscape of the Ozarks. He earned a MFA in ceramics from the University of Mississippi in Oxford, MS and currently teaches workshops and courses throughout the nation. He also operates a studio and gallery in Tupelo, MS. A prolific artist, Ashley's work has been widely collected.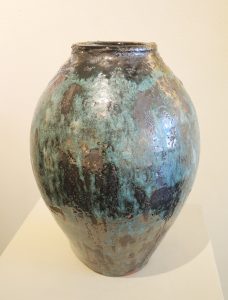 "Participating in a sensory overloaded society keeps most of us moving to a beat that discourages insight and quiet appreciation. I strive to create opportunities for people to pause and reflect by adapting functional and utilitarian hand-made objects into moments of serenity and meditation." – Michael Ashley
Owned by artist Dolores Justus, Justus Fine Art Gallery offers a wide range of original art including sculpture, paintings, ceramics, photography, and more by recognized artists. Opening receptions are held in conjunction with the Hot Springs Gallery Walk held from
5-9 p.m.
the first
Friday
of every month in downtown Hot Springs. Hours are
10 a.m. – 5 p.m.
,
Wednesday
through
Saturday
or by appointment. For more information, call
501-321-2335
or visit online at
justusfineart.com
.