Better World Mural will debut at celebration ceremony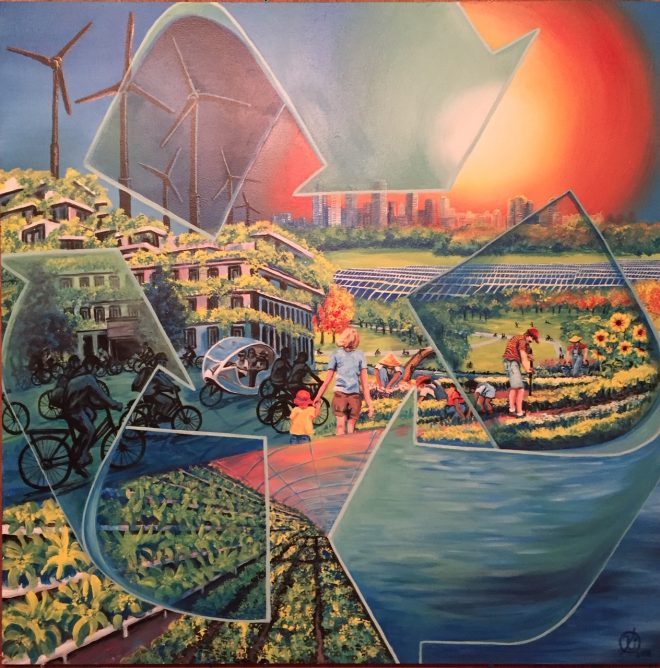 Terra Studios, Compassion Fayetteville, and 19 local artists have teamed up to create 18 4'x4' panels for a 32'x12' mural, which will be permanently installed at Terra Studios. The mission behind the "Better World Mural" is to educate and inspire people to take action for the Charter for Compassion and the United Nations Sustainable Development Goals, according to a press release.
The Charter for Compassion is based on the principle of compassion that focuses on the understanding and compassion for the self, others, and the planet. It lies at the heart of all religious, ethical, and spiritual traditions. The Sustainable Development Goals were adopted by world leaders at a UN Summit meeting in September 2015. It includes the motivation to mobilize efforts to end extreme poverty, fight inequalities, and tackle climate change, according to a press release.
The "Better World Mural" will be unveiled at a celebration ceremony at 12:30 p.m. April 13. The program will start with a musical prelude by John Two-Hawks, followed by a short speech by Mayor Lioneld Jordan and Rev. Lowell Grisham, and conclude with a reception filled with refreshments and music. More information about the free event can be found on the event Facebook page.
Approximately 30 donors, local businesses, and participating artists have sponsored the mural project. The participating artists include Matt Miller, Jaquita Ball, Suzie Sanford, Obed Gonzalez, Carol Hart, Valerie Hubbard Damon, Trent Talley, Olivia Trimble, Eugene Sargent, Octavio Logo, Xi Krump, Brandon Bullette, Susan Crabtree, Jason Jones, Amy Eichler, Lisa Crews, Drew Gentle & Cathrin Yoder, and Susan Idlet.
Terra Studios is located at 12103 Hazel Valley Road, Fayetteville, AR. 72701.