Arts Center of the Ozarks announces Northwest Arkansas Audio Theatre's "An Evening with Sherlock Holmes"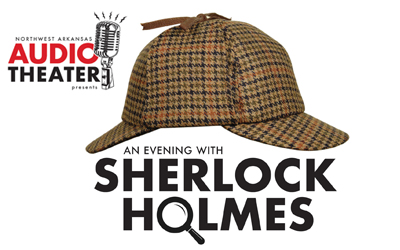 The game's afoot this September at the Arts Center of the Ozarks. The Northwest Arkansas Audio Theater presents "An Evening with Sherlock Holmes"–two episodes performed in the style of the classic radio show "The New Adventures of Sherlock Holmes."
In "The Royal Suitor," Holmes faces off against "the woman" in order to aid a European monarch.
"A Victorian Lady," written by a local author, follows Dr. Watson as he finds himself in mortal danger, and only Holmes can save him.
ACO is excited to have Northwest Arkansas Audio Theatre in the newly renovated black box theater.
Cast listing:
The Royal Suitor
NWAAT Announcer – Robbie Elliott
Harriet Bartell – Kerri Johnson
Dr. Watson – John Crochet
Sherlock Holmes – Jacob Priestner
Irene Adler – Hannah Huffey
John (her footman) – Paul Dollarhide
Martha (her maid) – Amy Redwine
The King of Bohemia – Michael Hooper
Mrs. Hudson – Debbie Barnes
Vicar – Paul Dollarhide
Mr. Norton – Jacob Pelkey
A Victorian Lady
Sherlock Holmes – Michael Brown
Dr. Watson – Marshall Prettyman
Harriet Bartell – Kerri Johnson
Inspector – Mitch Marmel
Mrs. Hudson – Debbie Barnes
Giles- Michael Hooper
Serenity – Desire' Gashler
Reginald – Jacob Pelkey
Mr. Waithe – Mitch Marmel
Sebastian Moran – Jacob Priestner
Bellboy – Amy Redwine
Mrs. Morton – Desire' Gashler
Dr. Mortimer – Paul Dollarhide
Understudy of Serenity – Eden Miller
Understudy of Irene – Amy Redwine