Arkansas Tech University welcomes first artist-in-residence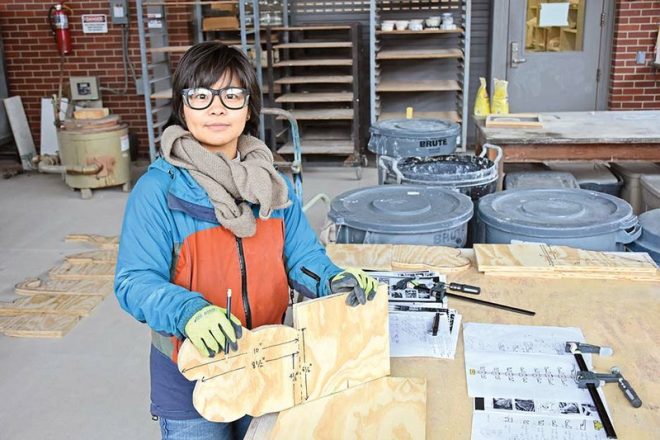 WORDS // CAROLINE BIVENS
PHOTO // ARKANSAS DEMOCRAT-GAZETTE
Arkansas Tech University welcomed its first artist-in-residence to campus to help art students broaden their learning experience. Artist Manami Ishimura was brought to the ATU campus through a grant from the Windgate Foundation. She will remain on campus until May 2019. During her stay she teaches classes, engages with students and works on a freestanding ceramic sculpture that will be displayed on campus permanently.
"I appreciate the faculty and people here. They are very helpful and kind even though I am not a native speaker so [it is difficult] to communicate with me," Ishimura said.
Ishimura was born in Tokyo, Japan, and completed her Bachelor of Fine Arts at Tama University in Japan and graduated with her Master's of Fine Arts from Texas A&M Corpus Christi.
She teaches a three-hour 3D design course. Some of the students she works with have never worked in 3D.
"I like teaching the beginning course because I can literally see [the students grow] and following the projects that I made," Ishimura said. "That is the pleasure of teaching."
For her first public display project, Ishimura is working with 4,000 pounds of clay to create a ceramic sculpture. Although she is unfamiliar with ceramics, she hopes the experience will expand her sculpting knowledge.
Ishimura has worked mostly with organic materials and glue, resin and plastic to create her art, according to her website. Her work has been exhibited in the U.S. and Japan.
ATU Professor of Art Neal Harrington said having an artist-in-residence is important for the learning experience of art students, and for the recruitment of new students.
Harrington said it's important for students to get constructive criticism from a real artist, and not just a professor. Students and staff have responded positively to Ishimura, and that students volunteer to help with the sculpture.
"Manami is truly one of the most joyful people I have ever met," Harrington said. "She takes everything as it comes and rolls with it."
Harrington said a total of 40 artists applied for the position, but that Ishimura's proposal for a public ceramic piece gave her the job. He said the department will continue to host artists in residence.
"Like every college around the nation, we are competing for the same students," Harrington said.  "What we can offer that is new, exciting and different will help with recruitment and viability."
For more information about Ishimura's art visit www.manamiishimura.com.