Thea Foundation Art Department hosts Fayetteville artist Joelle Storet
WORDS / CAROLINE BIVENS
PHOTOS / JORDAN HOLT
Fayetteville artist Joelle Storet expresses her bi-cultural roots in her new exhibit The Awakening on display at the Thea Foundation Art Department in North Little Rock, which had its opening reception on Friday, Feb. 1, 2019.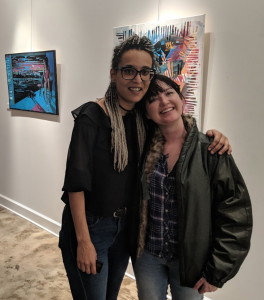 "Ever since I was little I've always loved art," Storet said. "I consider myself an art advocate. I want to incorporate art and inspire the community. Everyone is an artist."
Storet was born in Brussels, Belgium, to a Belgian father and Congolese mother. Storet said both of her parents were interested in the arts through Belgian comics and Central African art, which inspired her. The Awakening is a series of colorful paintings of figures and sculptures that Storet said allow her to embrace her Congolese side.  She expresses her African heritage by painting slim, elongated black women with shaved heads, similar to her mother's appearance.
Storet has worked with 3D models before, but this was her first exhibit to feature sculptures. With the help of other artists, she was able to construct the sculptures, and add lights to them. Storet said she uses bold colors that work together to create an unusual combination of colors. "I want someone to look at my art and say 'I bet I could paint like that too," Storet said.
Storet has exhibited work in the USA, Austria, Belgium and Germany. She is the Gallery Manager at the Art Ventures of NWA in Fayetteville. She said her work allows her to bring more art into the community.
Thea Foundation Marketing and Communications Director Stacey Bowers said the goal of the Art Department is to showcase emerging artists, and to give notoriety to their work. "We always keep an eye out for artists that impress us," Bowers said.
Bowers noted Storet's work was interesting because of the originality of her work. She said Storet's use of mix media was new to the Art Department. "We want viewers to look at the works and take their interpretation of it," Bower said. The exhibit is a part of the Thea Foundations quarterly Art Department exhibit and will be on display until March 1.