SASHAY, SHANTE: DARCY AMES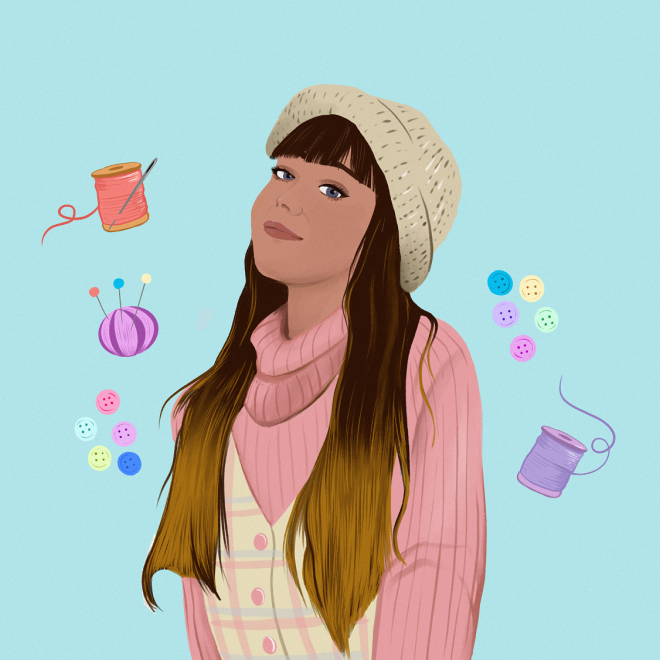 Say hello to a few faces from Interform's EMERGE II designer cohort.
WORDS / JULIA M. TRUPP
ILLUSTRATIONS / LUPITA ALBARRAN
---
DARCY AMES
Fayetteville
@darwinanddelilah | @crimsonandclover.vintage
Inspired by children's books, nature, and the bright colors and nostalgic looks of the '50s and '60s, Darcy Ames started her children's clothing company Darwin and Delilah in 2014 after discovering she was pregnant with her daughter. Ames has worn and collected vintage clothing since she was 12 years old, even altering vintage garments she would thrift with her mom, who taught her the art of sewing. Raised by artists and farmers in Northwest Arkansas, Ames always knew she would do something either creative or with animals as she grew up.
Ames also runs Crimson and Clover, a vintage clothing store in Fayetteville, with her husband and fellow collector, as well as her menagerie of kids and pets at home (four kids, three cats, two dogs and "one crazy squirrel"). So she guessed right.
Although Ames has had some of her designs stolen and mass-reproduced, she hasn't let that stop her from pursuing the craft. She loves working with textiles and incorporating embroidery into her work. "I love waking up with a new idea in my head. It is exciting and keeps me motivated. It can be a blessing and a curse. I always have 10 projects going at a time and even then I am looking ahead to the next one."