Arkansas Arts & Fashion Forum to Launch Educational Pilot Program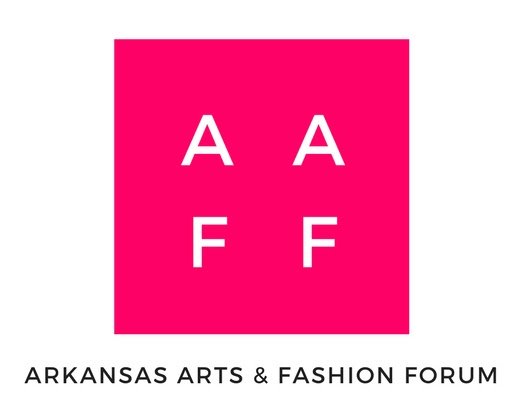 Arkansas Arts & Fashion Forum (AAFF) announces the launch of a year long Educational Pilot Program made possible by a generous grant from the Walton Family Foundation. AAFF's Educational Pilot Program includes three main areas of programming: – Student Designer Showcases – Educational and Professional Development Workshops – Public Speaker Series.
The Student Designer Showcase will launch the Educational Pilot Program during NWA Fashion Week's Fall Shows on September 20-22 in Fayetteville, Arkansas. College-level and trade program students from across the state will participate in runway shows, in areas including production design, hair styling, makeup artistry, and photography. Students will have the opportunity to learn from mentors in their fields to gain hands-on experience in a live production setting.
Throughout the next year AAFF will hold workshops and speaker series events that will revolve around fashion and its artistic and cultural ecosystem. These events will be programmed in collaboration with NWA Fashion Week as well as other local stakeholders.
"Thanks to the Walton Family Foundation's support, our Educational Pilot Program will build AAFF's capacity to nurture, inspire, and grow our amazing community of designers, models, hair & makeup artists, production professionals, photographers, videographers, and volunteers. We believe this programming will strengthen the talents, creative experience, and professionalism of the growing fashion and design community in Arkansas," said Robin Atkinson, CEO of AAFF.
About Arkansas Arts & Fashion Forum:
The Arkansas Arts & Fashion Forum was founded in 2017 with the hope of providing a central location for creative producers in Arkansas to find professional development resources, creative inspiration, and a community of support. The mission of the Arkansas Arts & Fashion Forum is to provide educational opportunities and professional support for aspiring avant-garde fashion designers, artists, and other creative professionals who are committed to building a vibrant and inspired creative community in Arkansas.
Within this mission, the Arkansas Arts & Fashion Forum pursues three main areas of programming:
● Providing educational workshops, classes and panel discussions for both fashion professionals and the public to increase understanding of the art of fashion.
● Providing educational scholarships and production grants to aspiring fashion designers.
● Providing educational mentorship opportunities for aspiring photographers, models, hair stylists, makeup artists, videographers and other aspiring professionals to work with established professionals in an educational environment for the development and enhancement of professional skills and knowledge.
Each season the Arkansas Arts & Fashion Forum dedicates time and resources to ensuring that designers based in the state of Arkansas are able to participate in NWA Fashion Week, ensuring visibility to their brands and professional development opportunities toward the goal of establishing a thriving fashion industry in our state.