Melissa Cowper-Smith Exhibits at Galleries at Library Square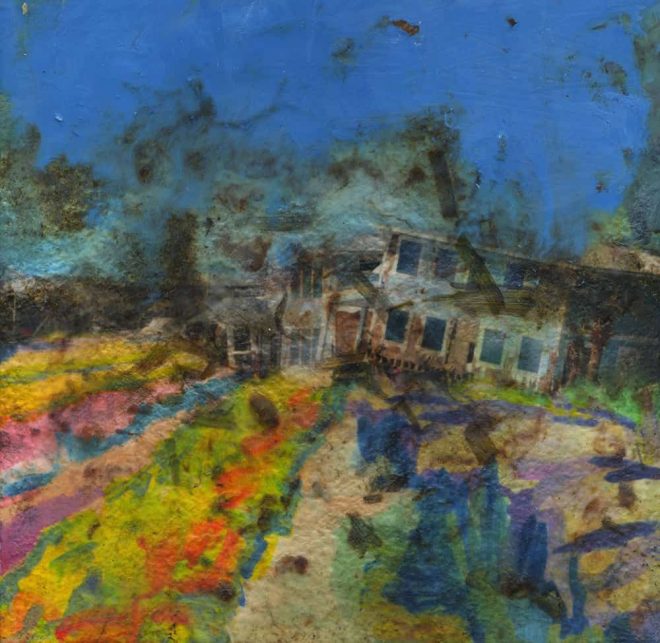 Melissa Cowper-Smith's latest project, Natural Treatment, had its opening reception at The Galleries at Library Square on June 14, and will be on display through September.
"This project was all people who grow their own medicine," she said. "I interview people for as long as they want to talk, and then I take photographs of their stuff based on the interview."
She takes hundreds of photos in their homes, then chooses one that she feels fits most with the story she wants to tell about them. She photoshops the pictures, and sometimes adds other media – oil paint, plants, horse hair.
Many of her projects focus on people who work with their hands – her last project was about people who built their own houses. Although she seeks out people around central Arkansas for her projects, she usually maintains relationships with them.
Cowper-Smith depicts spaces–landscapes or interiors–and there is never a person in her work. She said this creates a feeling of ghostliness. She wants them to make the viewer feel a sense of searching for connection.
"The viewer becomes the person in the room. There's an absence to them, which we associate with missing or longing or memory," she explained. "We experience places differently when we're alone."
Like the people she likes to make art about, Cowper-Smith also enjoys working with her hands. She has a farm where she grows her own fruits, vegetables, herbs, flowers and fibers. She started growing cotton before she knew what to do with it, and decided to start making paper, and then printed on them.
"Right away, I knew it was magic, because I had done digital printing for a long time, but as soon as I added the paper, it gave a sense of objectness, and it fit with the imagery."
She now has been making paper for five years, and she makes it out of other fibers she grows besides cotton. She teaches 2D design and fibers at the University of Central Arkansas.