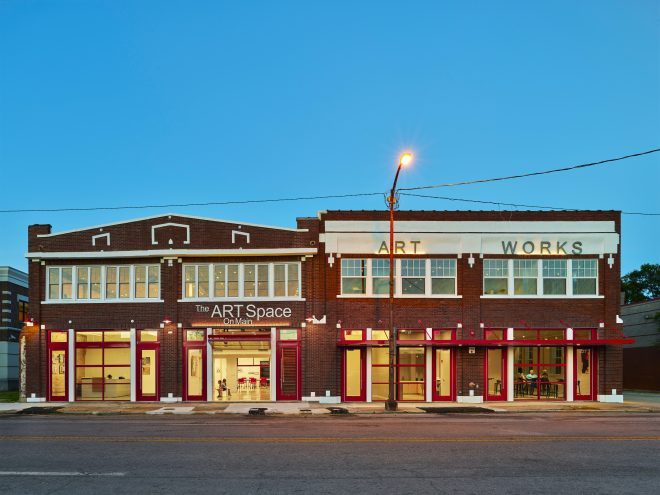 The Arts & Science Center is getting ready to open ARTSpace on Main, a new 11,000-square-foot multipurpose community arts and events space.
WORDS / JULIA M. TRUPP
PHOTOS COURTESY / ARTSPACE ON MAIN
A building once used as an early-20th-century firehouse has found a new life as ARTSpace, and is now bringing the creative heat to downtown Pine Bluff's revitalization efforts thanks to community members and a generous grant. 
The Arts & Science Center in Pine Bluff received more than 600 responses from a community strategic planning survey in 2017. The survey was overwhelmingly in favor of the reboot of their outreach-focused theater program, more inclusive spaces with diverse events, more community-engagement opportunities for artists, and more positive, hands-on youth arts activities in the community and region, said Rachel Miller, ASC's director. 
"A big inspiration for the ARTSpace in regards to design and function is Lowe Mills ARTS & Entertainment, a 1901 renovated textile mill located in Huntsville, Alabama. It's a wonderful mixed-use arts and events space located in a small-ish town that is totally rocking it," she said. "Inspired by the flexibility of space at Lowe Mills─also including the outdoor spaces─and its mission, combined with the call from our community to step up our game, I composed a 'big idea' proposal, gathered support from arts advocates across the state, and then started pitching the concept to potential funders."
After receiving a grant from the Windgate Foundation in November 2018, the Arts & Science Center launched the project to build the ARTSpace. It didn't happen at the drop of a hat; the construction crew ran into a few challenges along the way.
"When you are working with an old building, you are bound to find something nuts with the existing structure," Miller said. "One big discovery was a terrible termite infestation  that went unnoticed behind wrapped-wood columns and ceiling support beams. The architects and engineers were surprised the ceiling hadn't fallen in. A happy discovery was a large section of the original pressed-tin ceiling under the drop ceiling. That preserved section now serves as a floating accent ceiling in the Kline Foundation Event Gallery."
In a former life, the sprawling multipurpose center was a firehouse, then a display space for O.K. Ice Cream and Candy Company in the 1920s before eventually becoming doctors' offices. As of April 2021, the ARTSpace on Main is a multipurpose community arts and events space that stands at a little over 11,000 square feet. The building features the Windgate Community Gallery where local artists can show and sell work; the Kline Family Foundation Event Gallery for meetings, art exhibitions and events; a second-floor loft gallery and event space; flexible workshop spaces for classes and artist demos; a wood and scene shop; a costume shop; a pottery studio; and the outside ART Yard for large-scale projects and events.
Its sister facility, ART WORKS on Main, which is connected to the ARTSpace and located at 627 S. Main Street, recently completed renovations and features a 65-seat black box theater and a modern concession and lobby area. This space will allow the Arts & Science Center to provide small-scale events year around, such as theater productions, live music, improv, poetry readings and digital music and graphic design installations.  
ART WORKS also features five apartments and studios to support the artists-in-residence program ASC plans to launch later this year. The program will focus on community engagement and the intersection of art and technology.
The ASC team aims to foster opportunities for young people, as the initial community survey results called for, and to provide a collaborative space beyond the classroom or college campus.The loft gallery of the ARTSpace is slated to feature artwork collections by UAPB senior art students.  
"I think the purposes of both [ARTSpace and ART WORKS] augment the Arts & Science Center's overarching mission to serve as a cultural crossroad: educating, engaging and entertaining through the arts and sciences," Miller said.
In October, The ARTSpace and ART WORKS received a Merit Award during the 2021 AIA Arkansas Design Awards, presented October 21 in Hot Springs. The award is the latest design honor bestowed upon the new community arts and events spaces in downtown Pine Bluff. The facilities have also been selected to receive the 2021 Award for Outstanding Achievement in Adaptive Reuse from Preserve Arkansas. The award will be presented on January 28, 2022 at a ceremony at the Arkansas Governor's Mansion in Little Rock.
In September, the buildings received a Bronze Award for Adaptive Reuse from the South Central chapter of the American Society of Interior Design (ASID). 
The museum's main location has served as a cultural anchor for downtown Pine Bluff since 1994. The ARTSpace and ART WORKS contribute to the revitalization of downtown and serve as an entry point for the planned development of an arts and entertainment corridor. 
"We are very proud to have made this project happen without tapping into tax dollars," Miller said. "By bringing in outside investors, such as granting foundations and donors, we are able to show our community that people across the state and beyond are very interested in the future of Pine Bluff and want to have an active part in its progress."
// ASC701.ORG/ARTSPACE
Photo: Tim Hursley